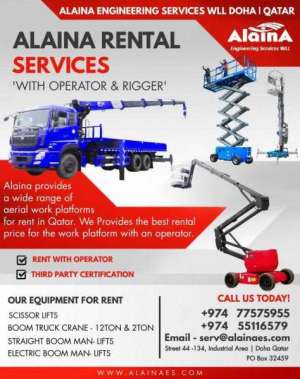 Alaina Engineering Services WLL
Address :
Street 44, PO Box 32459, Doha, Qatar
+974 77027505
+974 66608583, +974 55116579
We are Alaina Engineering Services WLL – Doha-Qatar, we pride ourselves on offering high-quality services to your esteemed organization.With over 10 years' experience, we are confident to provide quality service and competitive prices. We can offer a full range of items including:We rent a wide variety of equipment to meet our customer needs. All available rental solutions are listed here.
Get Direction - Google Map