AMNM A New Ambulatory Care Center Is Now Open In Lusail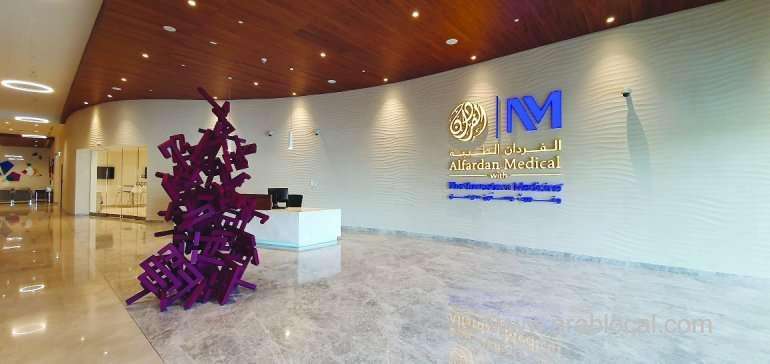 Doha: Alfardan Medical with Northwestern Medicine (AMNM), a new ambulatory care centre is now open in Lusail City. The state-of-the-art healthcare facility is the result of an international collaboration between Alfardan Group and US-based Northwestern Medicine.
AMNM will offer evidence-based patient-centric care in a wide variety of ambulatory care services, said senior officials during a virtual event held yesterday.
The partnership between Alfardan Group and Northwestern Medicine for AMNM leverages both organisations' complementary strengths: Alfardan Group's legacy and scale in offering hospitality and luxury experiences and Northwestern Medicine's longstanding history and leadership in the medical field.
"As the pioneering lifestyle brand in Qatar and the region, Alfardan Group has created a legacy of offering quality, luxury, and premium services to our clients. The cooperation between us and Northwestern Medicine is built on the shared values of service excellence and delivering world-class experiences," said Omar Hussain Alfardan, President and CEO of Alfardan Group (AFG).
"AMNM will deliver advanced integrated healthcare by leveraging Northwestern Medicine's expertise in medical services and Alfardan Group's renowned capacity for service excellence. These merits will position AMNM as one of the leading healthcare providers in the country."
"Opening a new healthcare facility during a pandemic is not easy but our strong commitment and dedication to serving the community and providing service excellence, even in times of uncertainty, has compelled us to ensure that AMNM is ready to welcome patients. I would like to sincerely thank the Ministry of Public Health for their support as we begin to operate," said Hussain Alfardan.
Benefiting from the interdisciplinary collaboration between the different departments at AMNM, patients will receive high-quality medical care from outstanding doctors and friendly medical staff using state-of-the-art, USA Food and Drug Administration (FDA) approved equipment.
Spanning over six floors in the Burj Alfardan, AMNM's facilities have been designed around the patient's experience, adhering to international standards of medical infrastructure, architectural design, and services.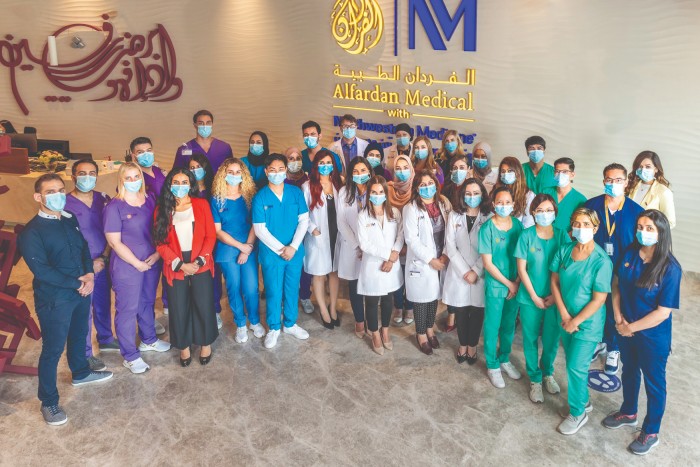 The multinational medical team at Alfardan Medical with Northwestern Medicine.
Dean M Harrison, President and Chief Executive Officer, Northwestern Memorial HealthCare said, "Supporting the delivery of world-class care with exceptional experience in Lusail City is an important milestone for our 'Patients First' mission. As the world continues to respond to the global COVID-19 pandemic, this facility provides Northwestern Medicine the opportunity to partner with the Alfardan Group to serve the people of Qatar."
At AMNM's state-of-the-art treatment facilities, service excellence, combined with advanced patient-centric care, is provided by a multinational medical team, with top US medical talent making up a large proportion of the centre's staff.
The facility has three operating theatres and nine suites. It provides services in various medical specialities, including ENT, dentistry, dermatology, gastroenterology, internal medicine, ophthalmology, orthopaedics, plastic surgery, reproductive, endocrinology, infertility, physical medicine and rehabilitation, sleep medicine and executive health.
"At AMNM, the patients' individuality is respected, empowering them to become active participants and make informed decisions about their healthcare plans. By bringing Northwestern Medicine's patient-centric care model to Qatar, we have ensured that AMNM will be one of the leading forces in offering research-based, high-quality, and compassionate care in the country," said Dr. Jessica Adam, Chief Medical Officer of AMNM.
She also said that the safety of AMNM staff and patients will be ensured by following COVID-19 guidelines set by the Ministry of Public Health (MoPH).
"All patients and staff entering AMNM will receive a temperature check and symptom screening. Other measures in place include frequent sterilisation, sanitisation, and social distancing," said Dr. Adam. The public can seek services at AMNM by booking an appointment through 4004 6000.
SOURCE: THEPENINSULAQATAR