How And Where To Get Immunization For Children In Qatar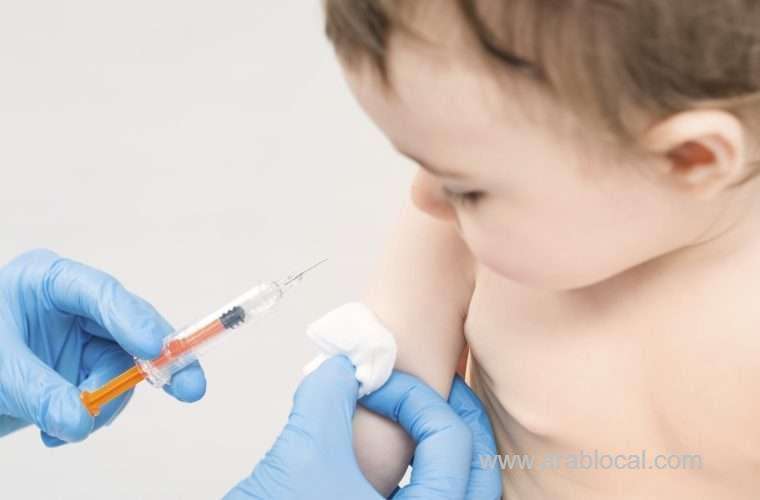 In the field of public health, vaccinations are regarded as one of the most effective interventions. In Qatar, vaccinations are given according to the World Health Organization's schedule and according to the age of the child. All hospitals and clinics in Qatar follow the same vaccination schedule for children. Primary Health Care Corporation (PHCC) has issued an updated booklet that provides all the information regarding child health, and the green card for vaccination is no longer used. All health centers offer this booklet, and customers can obtain it at the health center where they are registered. All the details you need to know about Qatari vaccinations for children can be found in this article.
Why is it important to vaccinate your child?
It is important to immunize children against preventable illnesses at an early age. As a result of vaccinations, children's immune systems are effectively strengthened and they become protected from infectious diseases. The Ministry of Public Health (MoPH) offers several vaccines that are administered at an early age. In order to ensure the effectiveness of each vaccine, it must be given within a certain timeframe.

What are the vaccines given to children in Qatar?
All children from birth to 18 years should receive 12 different vaccines, including BCG, HEXA, ROTA, PCV, Influenza, Meningococcal, Tdap, Varicella, Hepatitis A and B, MMR, and Oral Polio. Currently, the State of Qatar uses 12 vaccines in its basic vaccination program to provide immunity to children against 14 diseases like Diptheria, Tuberculosis, Whooping cough, Tetanus, Hepatitis A, Hepatitis B, Paralysis, Haemophilus influenzae (hemorrhagic influenza B), Mumps, Measles, Rubella, Chickenpox, Pneumonia, Rotavirus.

Immunization Chart
The recommended immunization schedule for children in Qatar by MoPH is given below: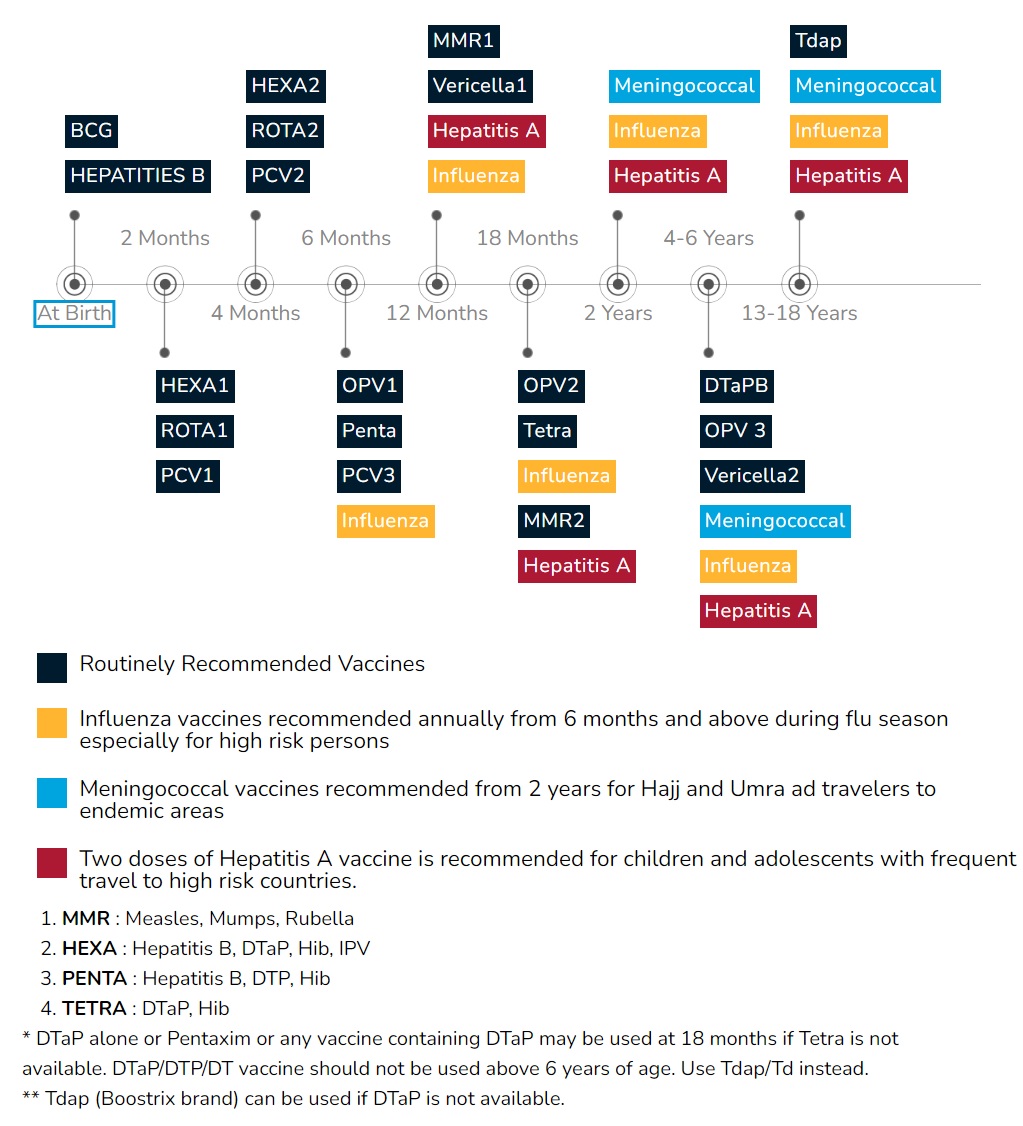 As per Dr. Ahmad Hassan Al-Hammadi, head of Hamad Medical Corporation's General Pediatrics Division, vaccines are given to Qatari children in the following ways:
1) The BCG and HBV0 vaccines are administered at birth.
2) Hexavalent vaccine is a 6-in-1 vaccine, usually given at two months of age. The vaccine protects against diptheria, tetanus, and pertussis (whooping cough), as well as hepatitis B, polio, and Haemophilus influenza type b.
3) Pentavalent vaccine given to children at age two, four, and six months is almost identical to Hexavalent vaccine.
4) A MMR vaccination protects against measles, mumps, and rubella (new recommendation - two vaccinations at 12 and 18 months of age).
5) Vaccination against hepatitis B is given at 24 months, 3-4 years, 4-6 years, and 11-12 years of age.
6) A varicella (chickenpox) vaccine is administered at 12 months and 3-4 years of age.
7) Pneumococcal vaccines are recommended to be given at two, four, six, and 15 months of age to protect against pneumonia (a chest infection), ear infections, and meningitis (a brain infection).
8) Infants are protected from rotavirus (given at two and four months) by administering a rotavirus vaccine. Rotavirus is one of the most common causes of serious diarrhoea in babies and young children.
9) From the age of two, you can receive the Meningococcal ACYW135 vaccine that protects you against A, C, Y, and W strains of the bacteria that cause Meningococcal disease.
10) It is recommended that children receive the influenza vaccine by the age of two.
Procedure for vaccination
In order to obtain vaccines from the Primary Health Centres, you must contact the health clinic nearest to you (Primary health centre details are given below). You can even book your appointment by calling Hayyak on (107) . A SMS will be sent to you once your appointment has been booked. It is recommended that you arrive at the health center 30 minutes before your appointment with the required documents. In addition, if you prefer to get vaccinated at a private hospital or clinic, you can make an appointment at your convenience.
Documents required:
1) Qatar ID
2) A health card
3) Vaccine card (if you recently received one)

Online process to schedule vaccination
You can schedule your child's immunization online by following the steps given below:
1) Visit the MoPH website's eServices page.
2) The name and birth date of your child need to be entered.
3) Then click "Search".
Where can children get vaccinated?
Immunizations of children are highly valued by the State of Qatar. Therefore, the government strives to provide vaccinations to people of all ages in all parts of the country through health centers. To obtain immunization services from government health sector institutions, you can simply visit your local hospital or health center. Vaccines are also available at a number of private health facilities. You can make an appointment with one of the health centers and contact them for detailed information. The Primary Health Centers of Hamad Medical Corporation in Qatar are the most popular health care providers for vaccinations since they offer free vaccinations.
The Primary Health Care Foundation includes the following health centers (click on the links below for the location and contact details of each health center):
Northern Region
5) Gharafat Al Rayyan Health Center
6) Al Leghwairiya Health Center
9) Qatar University Health Center
Central Region
2) Umm Ghuwailina Health Center
3) Rawdat Al Khail Health Center
4) Omar Bin Al-Khattab Health Center
Western Region
2) Abu Bakr Al-Siddiq Health Center
4) Al-Sheehaniya Health Center
Immunization status check
1) Visit the eServices page on the MoPH website.
2) To check the child's immunization status, enter their HMC / PHCC Health Card (HC) number or Qatar ID number.
3) The immunization status of your child will be displayed once you click on 'Submit'.

Additional Information:
- In addition to the list of vaccines mentioned above, there are also a few vaccines that are available as optionals. These include seasonal influenza vaccines or vaccinations that are offered based on certain conditions, like those given to travelers to places with endemic diseases.
- Qatar has recently made it mandatory for students to submit a Fit To Join School Certificate for school admission. A medical examination is required to obtain this certificate at The Government Health Center.
- A vaccination certificate can be obtained on the ground floor of the MoPH at the Communicable Disease Control and Vaccine Surveillance Section counters for school and college admission.