How To Check And Pay Traffic Violation Fines In Qatar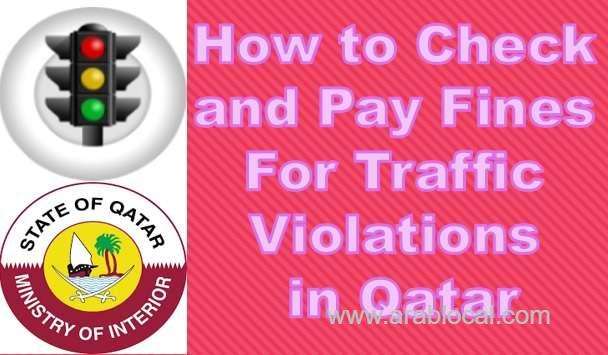 To ensure public safety, Qatar follows strict traffic rules. Despite following rules and regulations, we still make mistakes as human beings. You will receive a traffic violation ticket in Qatar if you violate the traffic rules. Getting a traffic violation ticket for the first time may leave you feeling lost and baffled about what to do next. Fortunately, traffic violation procedures are straightforward and easier with online services in Qatar.
If you have received a traffic ticket while driving in Qatar and have no idea what to do, don't worry. In this article, we will explain how to check, report and appeal traffic violations using the Metrash2 app and the MOI website. We will also discuss how to pay traffic fines.
How to Check Traffic Violations
Traffic violations can be checked on the Metrash2 app or on the Ministry of Interior (MOI) website via the Traffic Inquiries section by Qatar residents.
- Fines can be paid online through Metrash2 or at the Traffic Department.
- It is also possible to appeal traffic violations online if you believe you were issued the ticket by mistake.
- Also, if you witness another driver committing a traffic violation, you can report it through Metrash2.
Step-by-step instructions for these steps are given below:
Check Traffic Violations through the Ministry of Interior website (MOI).
Step 1: Visit the official Ministry of Interior website
The first step in checking your traffic violation fines is to visit the Ministry of Interior's official website.
Step 2: . Select Inquiries from the menu
Click on "Inquiries" on the MOI Portal homepage.
Step 3: Click on "Traffic Violation"
You can now find traffic violations under traffic inquiries.
Step 4: Search by vehicle number or ID number
On the traffic violation inquiry page you can enter your vehicle number, choose the type of vehicle, fill in the captcha, and hit the submit button. It is possible to search using a QID number or a company ID number. In case the vehicle is not registered in Qatar, you may check it under the "Foreign Vehicles" tab.
Step 5: Click on "Submit"
Upon clicking the submit button, your traffic violation report will appear. If you have committed any traffic violations, they will appear here, otherwise it will show "No Violation".
Check Traffic Violations through the Metrash2 app
Another way to check traffic violation reports in Qatar is through the Metrash2 app. Metrash2 can be downloaded from the Google Play Store or the Apple App Store.
Download Metrash2 app for Android
Following are the steps to check traffic violations:
Step 1: Login to the Metrash2 app
Sign in to the app with your credentials once it has been downloaded.
Step 2: Locate the Traffic icon
Click on the "Traffic" icon on the Metrash2 app's home page.
Step 3: Check for Traffic Violation
You need to click the "Violation Service" icon under the traffic page. This will take you to the next page, where you can view different types of violation such as Violation Images, Query/Traffic Violations, and Violation Objections.
Step 4: Click on "Query/Traffic Violations"
To view the details of your open traffic violation ticket, click the "Query/Traffic Violations" icon. You will be redirected to the violations inquiry page.
Step 5: Enter all the required details
Enter your Qatar ID here. Traffic violations can also be searched by plate number.
Step 6: Click "Search"
Here you can view details of all traffic violations, including open tickets against the provided details. In the case of no violations, you will see the expiration date on your vehicle's registration card (Istimara).
How to Pay MOI Qatar Traffic Violation Penalties
Paying traffic fines online is quick and easy if you have been cited for a traffic violation. Through the MOI Portal and Metrash2 App, you can pay your traffic violation fine.
To pay traffic violation fines online you can follow the same steps as to check the traffic violation report. If you have been ticketed for a traffic violation, you will find a "Settlement of Violation" option on the report page. Upon clicking on the settlement of violation option, you will be redirected to pay the fine for the violation. The Metrash2 app accepts payments only by Mastercard and Visa.
Offline payment can be made by going to the traffic department and paying the traffic violation fine directly there.
How to Appeal a Traffic Violation Fine in Qatar Using Metrash
Using the Metrash2 app, you can raise an objection against a traffic violation. An objection can be filed within 14 days from the date of registration. An overview of how to appeal a traffic violation in Qatar is provided below.
1) Access the Metrash2 App by opening it and logging in.
2) Click on the "Traffic" option under the services tab.
3) Next, click the "Violation Service" option.
4) Select the "Violation Objection" option.
5) The violations will now appear on your screen. Please select the violation you would like to raise an objection to and click "Next" and confirm the objection.
After registering your objection, you will receive an SMS reply within 30 days. False violations will be removed from your QID, while correct violations will require the payment of the fine.
Points to be noted
Here are some important points to remember about the appeal process:
- A violation can only be challenged within 14 days of its registration.
- It is not possible to contest a violation more than once.
- Once the request has been received, a response will be provided within 30 days.
- If the fine has already been paid, you cannot contest the violation.
How to Use Metrash to Report Traffic Violations
With the Metrash2 app, you can report traffic violations that other drivers have committed on public roads and in other places through an option called "Communicate With Us".
Traffic violations can be reported in the following ways:
1) Login to the Metrash2 mobile app
2) Go to the Services tab and click "Communicate With Us".
3) Select "Traffic" from the menu.
4) Then click on "Report Traffic Violation".
5) You will need to fill in more details, upload a photo of the violation and click the "Send" button.
Before registering a violation, the Licensing Department of the General Directorate of Traffic will verify the information. It is necessary to provide a clear picture of the violation along with the number plate of the vehicle as well as the time and location of the violation in order to report the violation.
Automated Response System
The Traffic and Patrol Police Department of Qatar has an automated response system to answer inquiries regarding traffic violations. If you have any questions about your traffic violations, please contact +974 234 4444. In addition to the service being available 24/7, they answer calls in Arabic and English for queries related to traffic violations, vehicles and number plates, driving licenses, services for persons with disabilities, technical examinations or any other traffic and patrolling police related issues and assistance.