The Saudi Defender Al-Shahrani Underwent Surgery In Riyadh After Suffering A Horrific Injury
Category:
Fifa World Cup 2022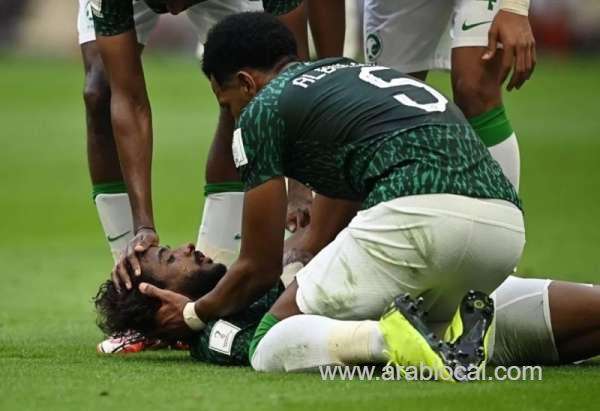 According to a statement posted by the Saudi national team on its Twitter account, Yasser Al-Shahrani, who suffered a horrific injury in the last minutes of the FIFA World Cup opening game against Argentina, was flown to Riyadh for emergency surgery on Wednesday.
"The player, Yasser Al-Shahrani, left Hamad Medical City, Doha this morning for the National Guard Hospital in Riyadh, where he will undergo surgery in the coming hours, according to the treatment plan drawn up by the medical team," according to the statement.
As a result of the collision between Al-Shahrani and Saudi goalkeeper Mohammed Al-Owais on Tuesday during their historic win over Argentina, Al-Shahrani sustained serious injuries. During the match, Mohammed Al-Buraik replaced him in the 98th minute of the match.
In the second half of the game, Al-Shahrani collided with Al-Owais and was knocked out cold. According to reports, Al-Shahrani suffered fractured jaws, fractured left facial bones, tooth damage, and internal bleeding.
When the incident happened, the goalkeeper grabbed his head in his lap and reacted in horror.
Al-Owais kneed Al-Shahrani as he went to grab the ball. All-Owais had come out to grab the ball and had accidentally kneed Al-Shahrani. Eventually, Al-Shahrani was stretchered off and gave the thumbs up to the crowd, but once he reached Hamad Medical City and was advised to undergo surgery to stop internal bleeding, the extent of his injuries became clear.
A video of the player after his severe injury was posted earlier by the Saudi national team. As Al-Shahrani appeared in the video, he assured the audience that he was in good health and congratulated the Saudi team for winning.
On Tuesday, the team announced that Al-Shahrani has been transferred to Hamad Medical City for surgical treatment after a severe head, chest, and abdomen collision. His condition is stable and he has undergone all the necessary tests.
After Al-Shahrani's horrific injury and transfer to the hospital, social media activists, especially Twitteratis, posted a video showing Al-Owais' reaction.