FIFA World Cup 2022 Schedule, Qualifiers, Team Names, Ticket Info
Category:
Fifa World Cup 2022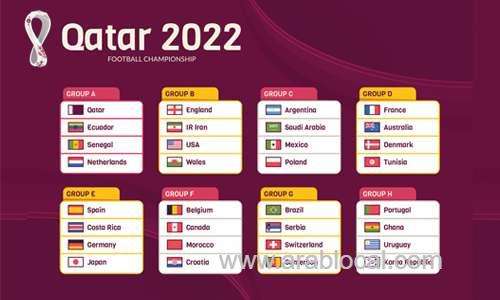 The FIFA World Cup 2022 will take place in Qatar from 21 November 2022 to 18 December 2022. 32 nations are ready to compete in the World Cup. For the first time, an international men's football championship will be held in Arab countries. The opening match will take place at 15:30 on 20 November 2022 at Al Bayt Stadium. The FIFA World Cup final takes place on 18 December 2022 at the Lusail Iconic Stadium.
A special card will be issued to the audience who come to watch this World Cup 2022, which will be held in Qatar. Known as Hayya Card or Fan ID, it is a government-issued document that you must have in order to watch FIFA World Cup matches. Only those with this card and match tickets are allowed inside the stadium. There is no need to buy a separate card for every match. The same card will be used for all matches. Hayya card holders can apply for a special visa to stay in Qatar for 2 months using their Hayya card. The deadline is ten days before the World Cup. This card allows you to come to Qatar whenever you want and return whenever you want during these days.
Where to Apply For Hayya for FIFA World Cup 2022
Hayya to Qatar 2022 App For Android
Hayya to Qatar 2022 App For IOS
A dedicated service center opened for Hayya card holders at Ali bin Hamad Al Attiyah Arena to support fans. Those without mobile phones and who wish to use transport services or fan zones can collect a physical copy of their Hayya card.
Hayya Card Service Center Opening Hours: 10:00 am to 10:00 pm every day except Fridays, except until December 23, when it will be open from 2 p.m. to 10 p.m.
FIFA World Cup 2022 Schedule All Details
Game Name: Football
Name of tournament: FIFA World Cup 2022
Host Country: Qatar
Total Matches: 64
Total Teams: 32
First Match: 21 November 2022, at Al Bayt Stadium
Final Match: 18 December 2022, at Lusail Stadium
FIFA World Cup Qatar 2022 groups
Group A: Qatar, Ecuador, Senegal, and Netherlands.
Group B: England, IR Iran, USA, and Wales.
Group C: Argentina, Saudi Arabia, Mexico, Poland.
Group D: France, Australia, Denmark, and Tunisia.
Group E: Spain, Costa Rica, Germany, and Japan.
Group F: Belgium, Canada, Morocco, and Croatia.
Group G: Brazil, Serbia, Switzerland, and Cameroon.
Group H: Portugal, Ghana, Uruguay, and Korea Republic.
Online ticket booking for the FIFA World Cup 2022
Ticket demand for the first FIFA World Cup to take place in the Middle East has been extremely high, according to FIFA. Over five lakh FIFA World Cup 2022 Online Tickets were sold between July and August, FIFA said, bringing the total number of tickets purchased to 2.35 million. Last-minute sales for Qatar 2022 begin on Tuesday 27 September at 11:00 CET / 1:00 pm (Qatar), with the remaining tickets sold on a first-come, first-served basis. Click on the links below to book your tickets for FIFA World Cup 2022.
https://www.fifa.com/fifaplus/en/tournaments/mens/worldcup/qatar2022/tickets
https://www.viagogo.com/in/Sports-Tickets/Soccer/World-Cup-Tickets?nis=8
https://www.ticombo.com/en/sports-tickets/football-tickets/world-cup-football?p=1
FIFA World Cup 2022 Ticket Prices
Opening match tickets: Cost between QR 189 and QR 2127.
The group stage match tickets: Cost between QR 37.80 and Rs 756.
Round-of-16 matches: Cost between QR 66.16 and QR 945.37.
Quarter Final tickets: Cost between QR 283.64 and QR 1087.
Semifinals tickets: Cost between QR 472.62 and QR 3289.67.
The final match tickets: Cost between QR 708.95 and QR 5530.05.
FIFA World Cup 2022 Venues (Stadiums) Locations and Contact Details
Eight stadiums will host the 2022 Qatar World Cup. Here are the locations and contact details of all eight stadiums in Qatar:
Al Thumama Stadium
Al Bayt Stadium
Al Janoub Stadium
Al Rayyan Stadium (Ahmed bin Ali Stadium)
Khalifa International Stadium
Lusail Stadium
Ras Abu Aboud Stadium (Stadium 974)
Education City Stadium
FIFA World Cup 2022 Schedule, Venue, Timing (Qatar Time)
20th November, Sunday (Qatar Time)
1 - Group A: Qatar vs Ecuador (Where: Al Bayt Stadium, Time: 7:00 PM)
21st November, Monday
2 - Group A: Senegal vs Netherlands (Where: Al Thumama Stadium, Time: 7:00 PM)
3 - Group B: England vs Iran (Where: Khalifa International Stadium, Time: 4:00 PM)
4 - Group B: USA vs Wales (Where: Al Rayyan Stadium, Time: 10:00 PM)
22nd November, Tuesday
5 - Group D: France vs Australia (Where: Al Janoub Stadium, Time: 10:00 PM)
6 - Group D: Denmark vs Tunisia (Where: Education City Stadium, Time: 4:00 PM)
7 - Group C: Mexico vs Poland (Where: Ras Abu Aboud Stadium, Time: 7:00 PM)
8 - Group C: Argentina vs Saudi Arabia (Where: Lusail Stadium, Time: 1:00 PM)
23rd November, Wednesday
9 - Group F: Belgium vs Canada (Where: Al Rayyan Stadium, Time: 10:00 PM)
10 - Group E: Spain vs Costa Rica (Where: Al Thumama Stadium, Time: 7:00 PM)
11 - Group E: Germany vs Japan (Where: Khalifa International Stadium, Time: 4:00 PM)
12 - Group F: Morocco vs Croatia (Where: Al Bayt Stadium, Time: 1:00 AM)
24th November, Thursday
13 - Group G: Switzerland vs Cameroon (Where: Al Janoub Stadium, Time: 1:00 PM)
14 - Group H: Uruguay vs South Korea (Where: Education City Stadium, Time: 4:00 PM)
15 - Group H: Portugal vs Ghana (Where: Ras Abu Aboud Stadium, Time: 7:00 PM)
16 - Group G: Brazil vs Serbia (Where: Lusail Stadium, Time: 10:00 PM)
25th November, Friday
17 - Group B: Wales vs Iran (Where: Al Rayyan Stadium, Time: 1:00 PM)
18 - Group A: Qatar vs Senegal (Where: Al Thumama Stadium, Time: 4:00 PM)
19 - Group A: Netherlands vs Ecuador (Where: Khalifa International Stadium, Time: 7:00 PM)
20 - Group B: England vs USA (Where: Al Bayt Stadium, Time: 10:00 PM)
26th November, Saturday
21 - Group C: Tunisia vs Australia (Where: Al Janoub Stadium, Time: 1:00 PM)
22 - Group C: Poland vs Saudi Arabia (Where: Education City Stadium, Time: 4:00 PM)
23 - Group D: France vs Denmark (Where: Ras Abu Aboud Stadium, Time: 7:00 PM)
24 - Group C: Argentina vs Mexico (Where: Lusail Stadium, Time: 10:00 PM)
27th November, Sunday
25 - Group E: Japan vs Costa Rica (Where: Al Rayyan Stadium,Time: 1:00 PM)
26 - Group F: Belgium vs Morocco (Where: Al Thumama Stadium, Time: 4:00 PM)
27 - Group F: Croatia vs Canada (Where: Khalifa International Stadium, Time: 7:00 PM)
28 - Group E: Spain vs Germany (Where: Al Bayt Stadium, Time: 10:00 PM)
28th November, Monday
29 - Group G: Cameroon vs Serbia (Where: Al Janoub Stadium, Time: 1:00 PM)
30 - Group G: South Korea vs Ghana (Where: Education City Stadium, Time: 4:00 PM)
31 - Group H: Brazil vs Switzerland (Where: Ras Abu Aboud Stadium, Time: 7:00 PM)
32 - Group H: Portugal vs Uruguay (Where: Lusail Stadium, Time: 10:00 PM)
29th November, Tuesday
33 - Group B: Wales vs England (Where: Al Rayyan Stadium, Time: 10:00 PM)
34 - Group B: Iran vs USA (Where: Al Thumama Stadium, Time: 10:00 PM)
35 - Group A: Ecuador vs Senegal (Where: Khalifa International Stadium, Time: 6:00 PM)
36 - Group A: Netherlands vs Qatar (Where: Al Bayt Stadium, Time: 6:00 PM)
30th November, Wednesday
37 - Group D: Australia vs Denmark (Where: Al Janoub Stadium, Time: 6:00 PM)
38 - Group D: Tunisia vs France (Where: Education City Stadium, Time: 6:00 PM)
39 - Group C: Poland vs Argentina (Where: Ras Abu Aboud Stadium, Time: 10:00 PM)
40 - Group C: Saudi Arabia vs Mexico (Where: Lusail Stadium, Time: 10:00 PM)
1st December, Thursday
41 - Group F: Croatia vs Belgium (Where: Al Rayyan Stadium, Time: 6:00 PM)
42 - Group F: Canada vs Morocco (Where: Al Thumama Stadium, Time: 6:00 PM)
43 - Group E: Japan vs Spain (Where: Khalifa International Stadium, Time: 10:00 PM)
44 - Group E: Costa Rica vs Germany (Where: Al Bayt Stadium, Time: 10:00 PM)
2nd December, Friday
45 - Group G: Ghana vs Uruguay (Where: Al Janoub Stadium, Time: 6:00 PM)
46 - Group G: South Korea vs Portugal (Where: Education City Stadium, Time: 6:00 PM)
47 - Group H: Serbia vs Switzerland (Where: Ras Abu Aboud Stadium, Time: 10:00 PM)
48 - Group H: Cameroon vs Brazil (Where: Lusail Stadium, Time: 10:00 PM)
Round of 16
3rd December, Saturday
49 - Winners of Group A vs Runners-up of Group B (Where: Khalifa International Stadium, Time: 6:00 PM)
50 - Winners of Group C vs Runners-up of Group D (Where: Al Rayyan Stadium, Time: 10:00 PM)
4th December, Sunday
51 - Winners of Group B vs Runners-up of Group A (Where: Al Bayt Stadium, Time: 10:00 PM)
52 - Winners of Group D vs Runners-up of Group C (Where: Al Thumama Stadium, Time: 6:00 PM)
5th December, Monday
53 - Winners of Group E vs Runners-up of Group F (Where: Al Janoub Stadium, Time: 6:00 PM)
54 - Winners of Group G vs Runners-up of Group H (Where: Ras Abu Aboud Stadium, Time: 10:00 PM)
6th December, Tuesday
55 - Winners of Group F vs Runners-up of Group E (Where: Education City Stadium, Time: 6:00 PM)
56 - Winners of Group H vs Runners-up of Group G (Where: Lusail Stadium, Time: 10:00 PM)
7th and 8th December Rest Days
Quarter-finals Matches
9th December, Friday
57 - Winners of 49 vs Winners of 50 (Where: Lusail Stadium, Time: 10:00 PM)
58 - Winners of 53 vs Winners of 54 (Where: Education City Stadium, Time: 6:00 PM)
10th December, Saturday
59 - Winners of 51 vs Winners of 52 (Where: Al Bayt Stadium, Time: 10:00 PM)
60 - Winners of 55 vs Winners of 56 (Where: Al Thumama Stadium, Time: 6:00 PM)
11th and 12th December Rest Days
Semi-finals Matches
13th December, Tuesday
61 - Winners of 57 vs Winners of 58 (Where: Lusail Stadium, Time: 10:00 PM)
14th December, Wednesday
62 - Winners of 59 vs Winners of 60 (Where: Al Bayt Stadium, Time: 10:00 PM)
15th and 16th December Rest Days
17th December, Saturday
63 - Third place play-off (Where: Khalifa International Stadium, Time: 6:00 PM)
Final Match
18th December, Sunday
64 - The World Cup final (Where: Lusail Stadium, Time: 6:00 PM)
The Official FIFA World Cup Broadcasters
Middle Eastern Countries: beIN Sports.
India: Reliance Viacom 18 (Colors, MTV, and other channels of Viacom 18. You can also watch the matches live on Voot)
Pakistan: Viacom 18 India, ARY Digital Network
United Kingdom: BBC, ITV
United States: Fox, Telemundo
Also Read:
Your Doha Metro Complete Guide
Download FIFA WC 2022 Match Schedule PDF
How To Enter Qatar Through The Land Border For The FIFA World Cup 2022
For FIFA World Cup 2022 News
Dos And Don'ts For Fans And Visitors During FIFA World Cup 2022 In Qatar