Your Doha Metro Complete Guide
About Doha Metro
Travelling in Qatar is presently easier because of the three Doha Metro lines - Red, Gold, and Green. The Doha Metro is a quick travel system in the capital city of Qatar (Doha), which got operational on 8 May 2019. It has three lines (Red, Gold and Green) with length of approximately 76 km and 37 stations. With the speed of 100 km/h, Doha Metro will be one of the quickest driverless trains in the world.
Those who haven't experienced Doha Metro yet or those who are new in Qatar, this article will help them for sure. We will guide you with step-by-step procedure and by providing you all the necessary information about Doha Metro like Stations for operations, Ticket Charge, Travel Cards, Hours of Operations and Facilities inside the metro stations. Likewise, there are a few standards and guidelines which you ought to know about while you travel on Doha Metro.
What to do to have a ride on Metro:
1. Go to the station which is in operation.
2. Buy a ticket or purchase a travel card available at the Metro Station.
3. Scan your ticket/card at the metro gate towards platform.
4. As the train arrives start boarding into the VIP/Family/Standard class as per your ticket category.
5. Watch out the route of your journey and exit at your destination.
Doha Metro train timings
Doha Metro runs 7 days of the week, you can get train in every 5 minutes. Showing below the daily timings for Doha Metro:
Saturday to Wednesday: 6:00 am to 11:00 pm
Thursday: 6:00 am to 11:59 pm
Friday: 2:00 pm to 11:59 pm
Doha Metro Network
Doha Metro network consists of three lines – Red, Green and Gold, with 37 stations including 2 interchange stations.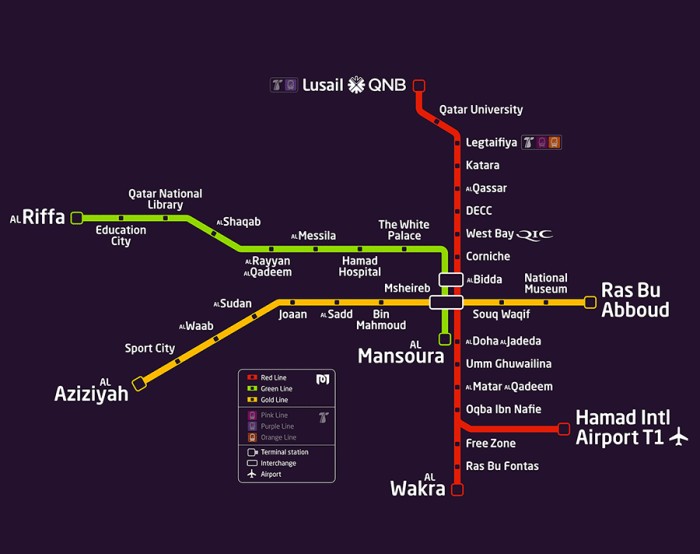 1. Red Line
The Red Line runs for 40 kilometres from Al Wakra in the south to Lusail in the north. This line likewise connects Hamad International Airport (HIA) at Terminal 1 to the centre of the city. It has 17 currently active stations (Legtaifiya will open next year) and two interchange stations for the metro lines – Al Bidda and Msheireb.
Note: If you are going to Hamad International Airport Terminal 1 station from Al Wakra, then first you need to go to Oqba Ibn Nafie
then take the train heading to Hamad Airport. Same as when you are coming from HIA station going to Al Wakra, you have to change trains at Oqba Ibn Nafie station.
Travel Time:
Lusail QNB station to Al Wakra - 39 minutes

Lusail to HIA - 38 minutes

HIA to Al Wakrah - Around 13 to 15 minutes and vice-versa

Msheireb to Al Wakrah - 17 minutes

Msheireb to HIA - 16 minutes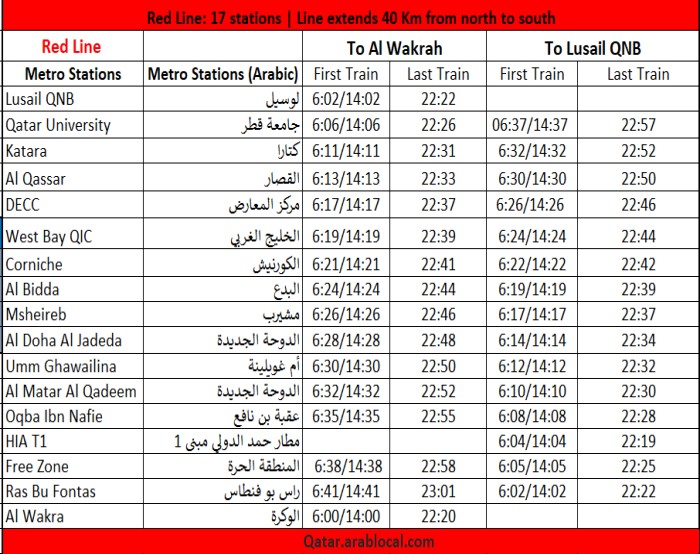 2. Gold Line
The east to west Gold Line has 11 stations all are operating currently. It extends 14 kilometres from Ras Bu Aboud to Al Aziziyah.
Travel Time:
Al Aziziyah to Ras Bu Abboud - 20 minutes
Msheireb to Al Aziziyah - 13 minutes
Msheireb to Ras Bu Abboud - 7 minutes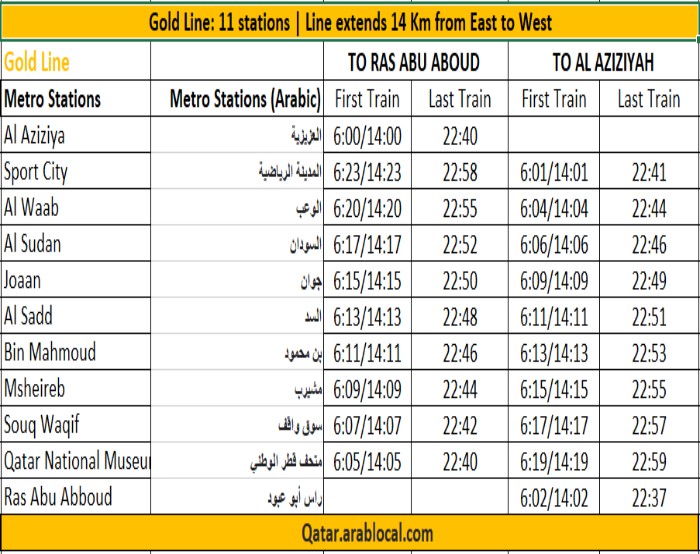 Also Read: Another Metrolink Route Added To Doha Metro Network
3. Green Line
The east to west Green Line has 11 stations all are operating currently. It extends 22 kilometres in the east from Al Mansoura to Al Riffa in the west.
Travel Time:
Al Riffa to Al Mansoura - 26 minutes and vice versa
Msheireb to Al Mansoura - 3 minutes
Msheireb to Al Riffa - 23 minutes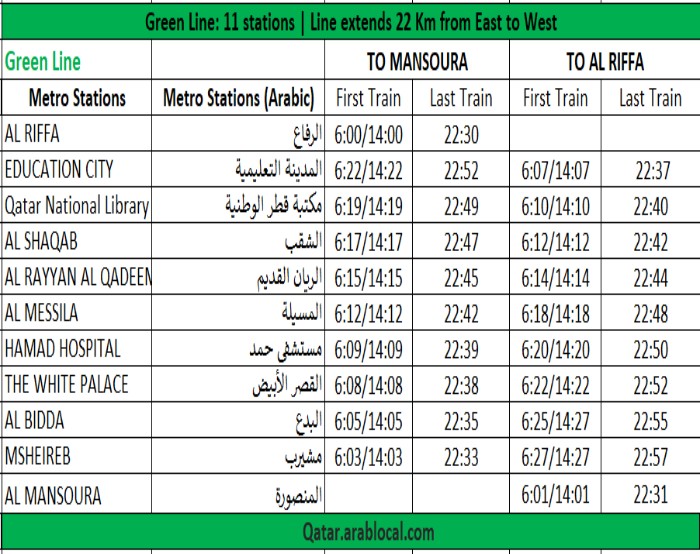 Metrolink Schedule
Here you can check Metro Link shuttle bus route numbers along with the timing of the last bus shuttle available at Metro Stations.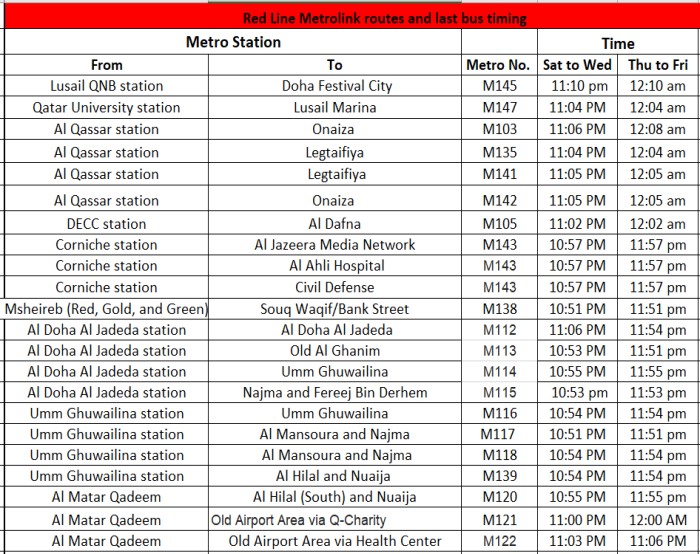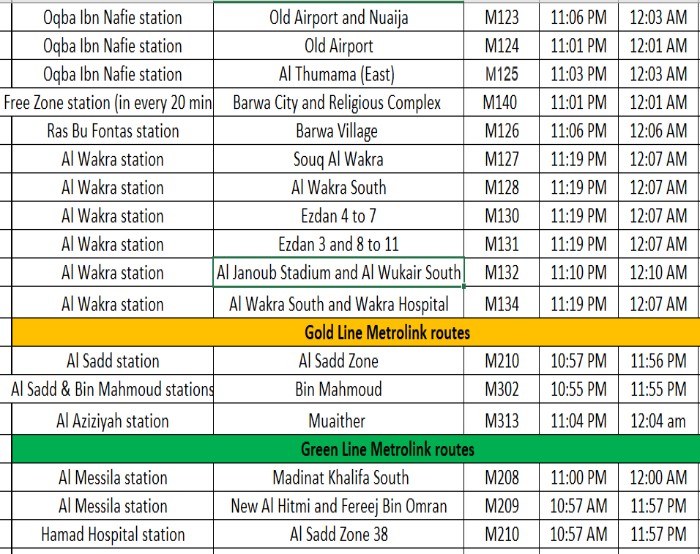 Another route is added on the Gold Line:
From: Ras Bu Abboud
To: HIA Midfield area
Metro NO. - M316
Time
Sat to Wed: 06:00 to 23:00
Thu to Fri: last bus leaves at 23:59
The metro will have extended hours during the World Cup (From 20 Nov to 20 Dec 2022): Saturday to Thursday, 6 a.m. to 3 a.m., and Friday 9 a.m. to 3 a.m.
At peak times, trains will run every three minutes
You can also find out the Metrolink route maps here. (Click Here)
Types of Doha Metro Travel Cards
To travel in Doha metro either regularly or just once you'll need to purchase Doha metro travel card. Here we will tell you about different types of Doha Metro Travel Cards available.
1. Limited Use Travel Card (LUTC): This card can be used for a single journey or day pass. This is a Single-use paper travel card.
2. Standard Travel Card (STC): Plastic travel card that costs QR 10 which is reusable. Purchase the card and you can add credit. You can't go on Doha Metro Gold class with this card. Standard Travelcard is valid for 5 years from the date of purchase.
3. Gold Travel Card (GTC): Plastic travel card that costs QR 100 which is reusable. Purchase the card and add credit to go on Doha Metro Gold Class. Gold Travelcard valid for 5 years from the date of purchase.
Where to get travel cards
You can buy Doha Metro Travel Cards from the metro stations and apart from that you can also buy from the following retail stores/outlets in Qatar:
1.Al Meera (All Al Meera Stores)
2.Lulu (Selected Lulu Stores)
3.Carrefour (Selected Carrefour Stores)
4.Jumbo Electronics (Selected Jumbo Stores)
5. Using Talabat, you can now order your travel card within 30 minutes, and you will receive it at your door. You can order the Doha Metro Travel Card easily by downloading and opening your Talabat app, searching for Talabat Mart in the listing of stores near you, and choosing 'Metro Standard Travel Card' in your basket. Get your reusable card for QR30 inclusive of QR20 ready-to-use credit and check out.
Download the Talabat App Android
Metro cards can be topped up at vending machines in stations, or online at qr.com.qa/top-up.
Doha Metro Ticket Fare:
1. Fare for a single journey on a standard/family class is QR 2 per person per ride and day pass will cost QR 6.
2. Fare for a single journey on a Gold class will cost QR 10 per person per ride and a Day pass will cost QR 30.
3. Fare is same for a child and an adult.
4. Free for kids aged below 4 years. Kids aged 5 and above need a travel card to take a ride on Doha Metro.
5. Kids who are 9 years or above can travel alone.
Rules and Regulations to be followed:
1. Pets are not permitted. Anyway, blind travellers with guide dogs and deaf travellers with hearing dogs going with them are allowed. Going on Doha Metro with baggage should be possible with no extra expense. In any case, any bother or injury to individual travellers or in the event of impeding crisis ways out or walkways isn't permitted.
2. Photography for commercial gain is not allowed.
Qatar Rail Mobile App:
Incase if we have missed something or if there are any mistake please write that in the comment box.