Public Transportation In Qatar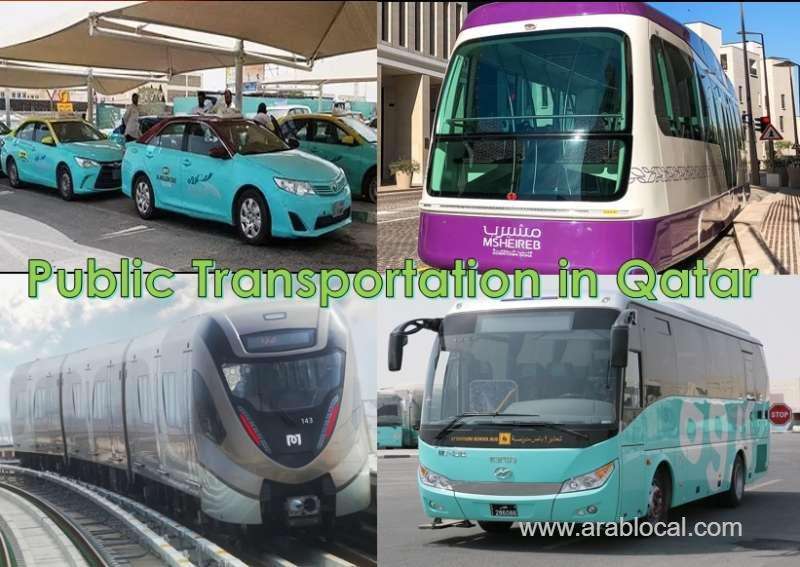 Qatar has developed its public transportation system significantly over the last few years, mainly as a result of its commitment to improving mobility, reducing traffic congestion, and promoting sustainability. Most of Qatar's population resides in the capital city of Doha, where most of its public transportation systems are based. The public transportation system in Qatar is efficient, fast, and generally affordable. To accommodate the growing needs of residents and visitors, the government has heavily invested in modernizing and expanding the public transportation system.
Apps for Qatar's public transport system
1) Sila - The Sila brand integrates the public transportation modes of the State of Qatar into an integrated network. Currently, it includes buses, trams, metros, and taxis. Whether you are a citizen, a resident or a visitor, Sila aims to make journeys easier and ensure that you can move freely around Qatar.
Download the Sila App for Android
Download the Sila App for IOS
2) metroexpress - As a complementary ride-sharing feeder service, metroexpress connects specific service zones around metro and tram stations. It is an exclusive service available only to registered metro or tram passengers and in conjunction with a metro or tram journey. It now serves 10 metro stations 6 on the Red Line, two on the Green Line, and two on the Gold Line, as well as seven Lusail tram stations.
Download the metroexpress App for Android
Download the metroexpress App for IOS
3) Mowasalat - Qatar's national public bus company Mowasalat provides departure times, ticket sales, and Karwa Smart Card tracking through its own app.
Download the Mowasalat App for Android
Download the Mowasalat App for IOS
4) Karwa Taxi - With its unique turquoise green appearance, "Karwa" taxis are known as the most convenient, safe, and government-owned metered taxis.
Download the Karwa Taxi App for Android
Download the Karwa Taxi App for IOS
5) Doha Metro - It's mostly an underground rail system that connects Doha suburbs and communities. You can plan your trip and manage your public transport card using a standalone Doha Metro app.
Download the Doha Metro App for Android
Download the Doha Metro App for IOS
Modes of Transportation
Listed below are the modes of transport in Qatar that make it convenient for you to travel.
1) Trains - Metro, Tram
2) Buses
3) Taxis
4) Car hire
5) Limousine hire
Below is a detailed explanation of each mode of transport.
1) Trains in Qatar
In 2011, Qatar Rail was formed by an Emiri decree with the mandate to design and develop the country's rail network and manage, operate, and maintain it after it is completed. Almost all of Qatar's railway lines, including the Doha Metro and Lusail Tram, are owned and operated by Qatar Rail.
a) Doha Metro
Doha Metro is a high-tech, high-speed rail network that runs mostly underground and across the city. It will also play a vital role in achieving Qatar's National Vision 2030. The metro system was constructed in two phases, with 37 stations and three lines in Red, Gold and Green in the first phase. Public access to these lines was opened in 2020. Msheireb is the largest station on the Doha Metro connecting with the Red, Green and Gold lines. It is expected that the Blue Line will open in 2026, which is a fourth line. The second stage of metro development is the fourth line.
Click on the link below for more information about Doha Metro.
Your Doha Metro Complete Guide
b) Tram
There are three lines in the tram system:
Lusail Tram - It connects to the metro via Legtaifiya Station (Red Line).
Education City Tram - Connects to the Green Line.
Msheireb Tram - connects Msheireb Metro Station to landmark locations within Msheireb Downtown Doha
Lusail Tram
As part of the Lusail urban development project, the Lusail Tram, formerly known as the Lusail LRT, is being developed. There are four lines and 25 stations aboveground and underground on the Lusail Tram network, providing convenient transportation within the new city of Lusail. Using the Lusail Tram will simplify travel around Lusail City. The Lusail Tram has two interchange stations within Lusail and Legtaifiya that connect to the Doha Metro. Lusail Trams are operated by drivers, unlike the Doha Metro which is driverless. Trams are greener and handle traffic better than buses. One train replaces about 40 cars, enabling fewer people to take to the road. As the largest sustainable development in Qatar, Lusail City will soon become the main transportation hub.
Lines of the Lusail Tram
Lusail Tram has four lines which include Orange line, Purple line, Pink line, Turquoise line.
Opening of Lusail tram's first phase - On 1st January 2022, the Orange line of the Lusail Tram network was opened to the public, marking the beginning of its operation. As of 9th April 2022, a seventh station was open to the public, The Lusail Central. The rest of Lusail's network will be made available to the public in phases as it develops. The 28km tramway system will be the largest in the Gulf region once completed. A total of seven stations are currently served by the orange line such as Lehtaifiya, Marina, Marina promenade, Yacht Club, Esplanade, Lusail Central, Energy City South.
The map below shows the planned Lusail tram network by 2022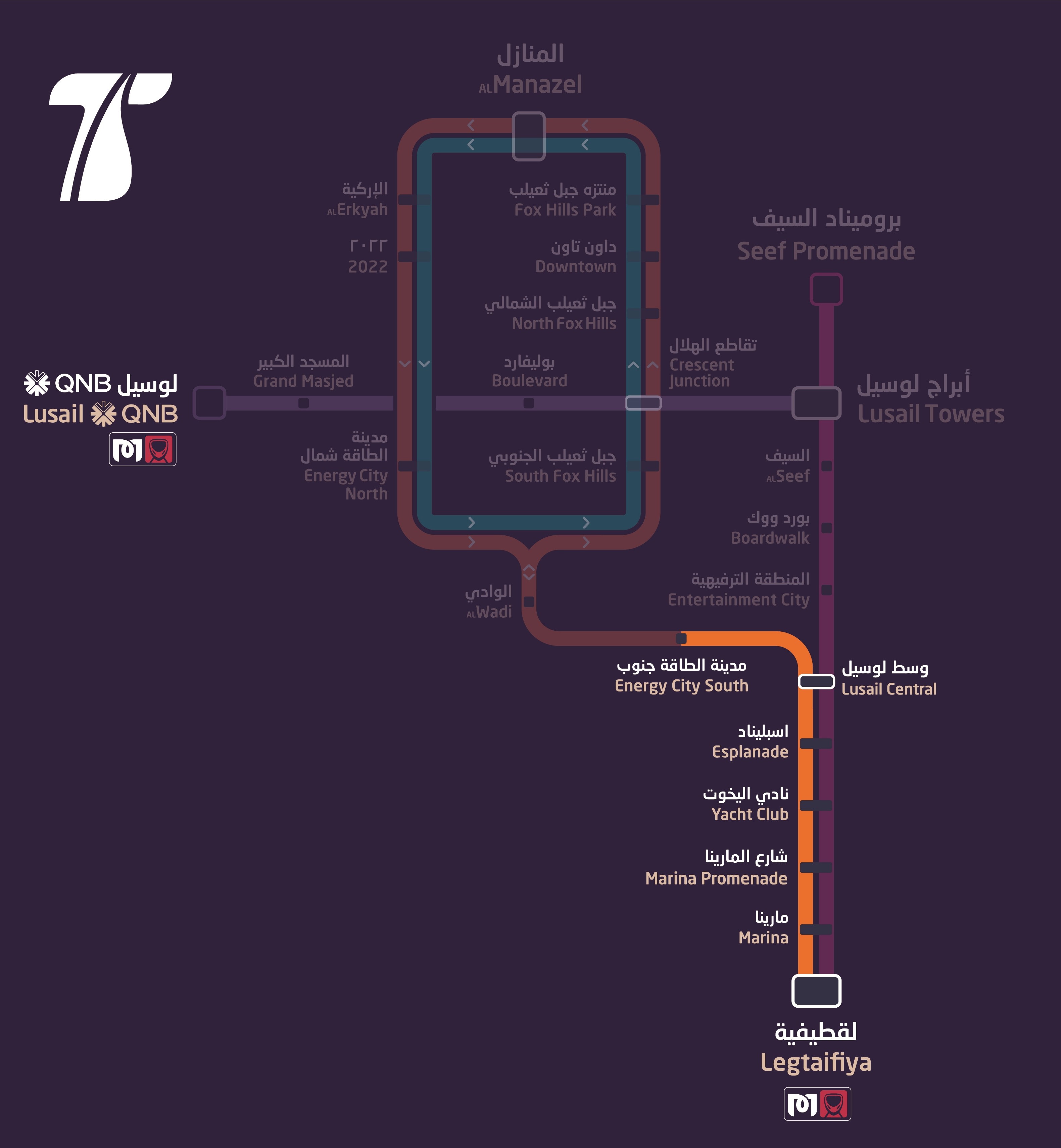 Lusail Tram Travel Card
If you wish to travel on the Lusail Tram, you must purchase a Standard travel card. Lusail trams do not have Gold classes.
Standard Travel Card - It is a plastic card that is rechargeable and used for Standard and Family class travel. It is available at all Metro stations from vending machines and licensed retailers including Al Meera, Carrefour, Lulu, Family Food Center and Jumbo.
Cost of the card - QR 10
Cost for a single journey - QR 2
Cost of a day pass - QR 6
Lusail Tram Timings
Sunday to Wednesday - 5.30am to 11.59pm
Thursday - 5.30am to 1.00am
Fridays - 2.00pm to 1.00am
Saturday - 6.00am to 11.59am
Education City Tram
As part of the Qatar Foundation's commitment to sustainable travel, the Education City Tram has been launched. It raises the nation's profile as a hub of innovation. Passengers are guaranteed a comfortable commute with free wi-fi on the tram. Schools, universities, centers, and other facilities of Qatar Foundation can be accessed by tram, providing carless, park-and-ride connections. The Education City Tram is designed to provide convenient and sustainable transportation within the campus area, making it easier for students, faculty, and visitors to move between different institutions, facilities, and amenities within the sprawling Education City complex.
Three lines are covered by Education City Tram:
Blue Line (Academic Loop) - In December 2019, the blue line was launched for the first time. Mathaf: Arab Museum of Modern Art is the starting point and runs around Qatar Academy in a loop.
Yellow line - The route runs from Education City Stadium to Al Shaqab Metro Station.
Green line - With the launch of the Green Line, Qatar Foundation's Education City Tram links the north and south campuses.
Education City Tram Stations are shown on the map below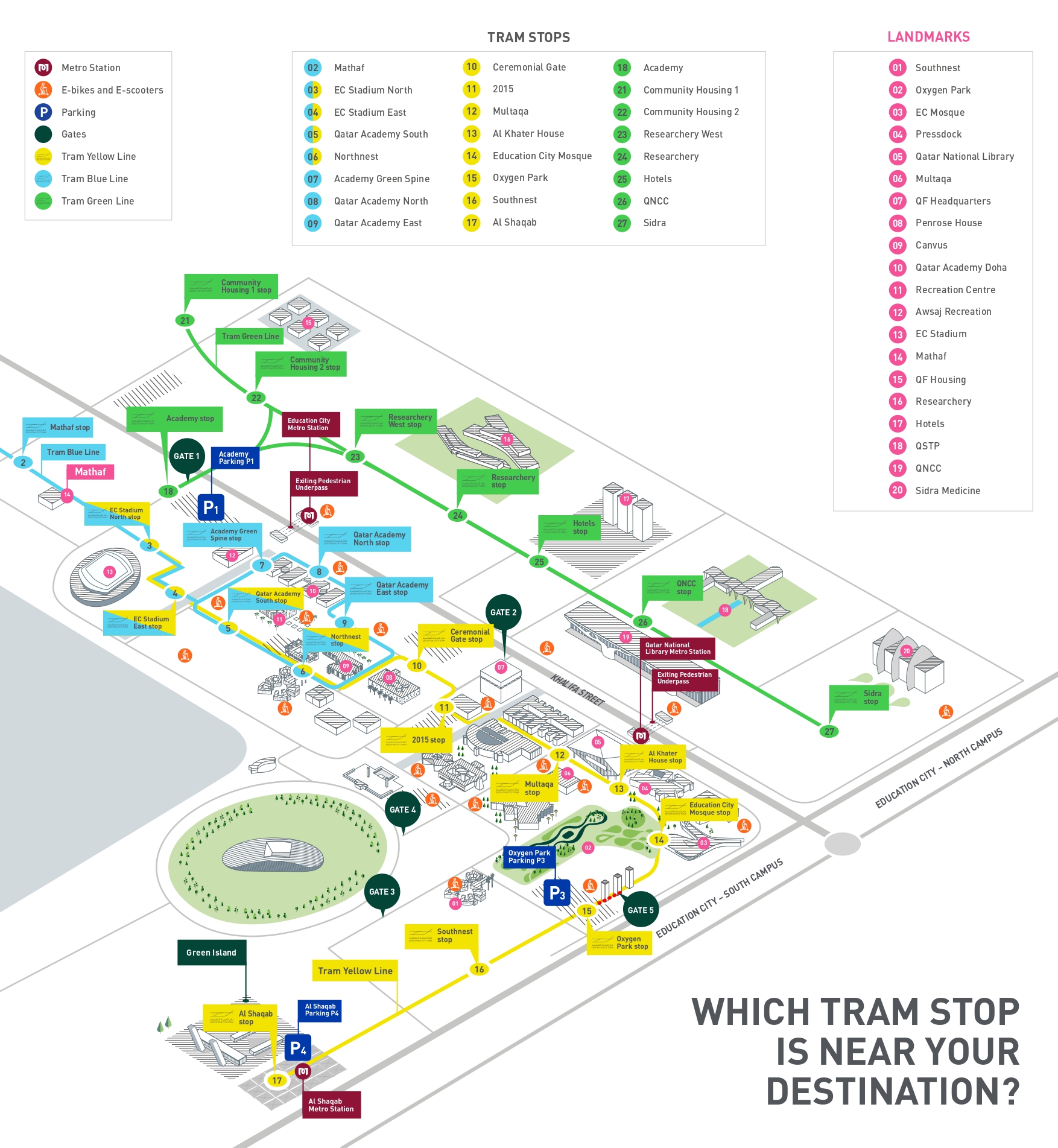 Education City Tram Timings
6am to 10pm on weekdays, 6am to 8pm on weekends. At peak hours, trams arrive in 5 minutes, while at non-peak hours, they arrive in 10 minutes.
Ticket Cost
All tram rides are free, no tickets or reservations are required.
Msheireb Tram
Msheireb Tram operates in Msheireb Downtown of Doha. It is a 2 km closed-loop track that takes about 18 minutes to complete with nine stops making it easier for visitors to access all parts of the city district. There are nine stations in total: Sahat Al Nakheel Station, Wadi Msheireb Station, Galleria Station, Msheireb Prayer Ground Station, Heritage Quarter Station, Al Baraha Station, Sahat Al-Masjid Station, Al Kahraba Street Station and Al Mariah Street Station.
Below is the Msheireb Tram route map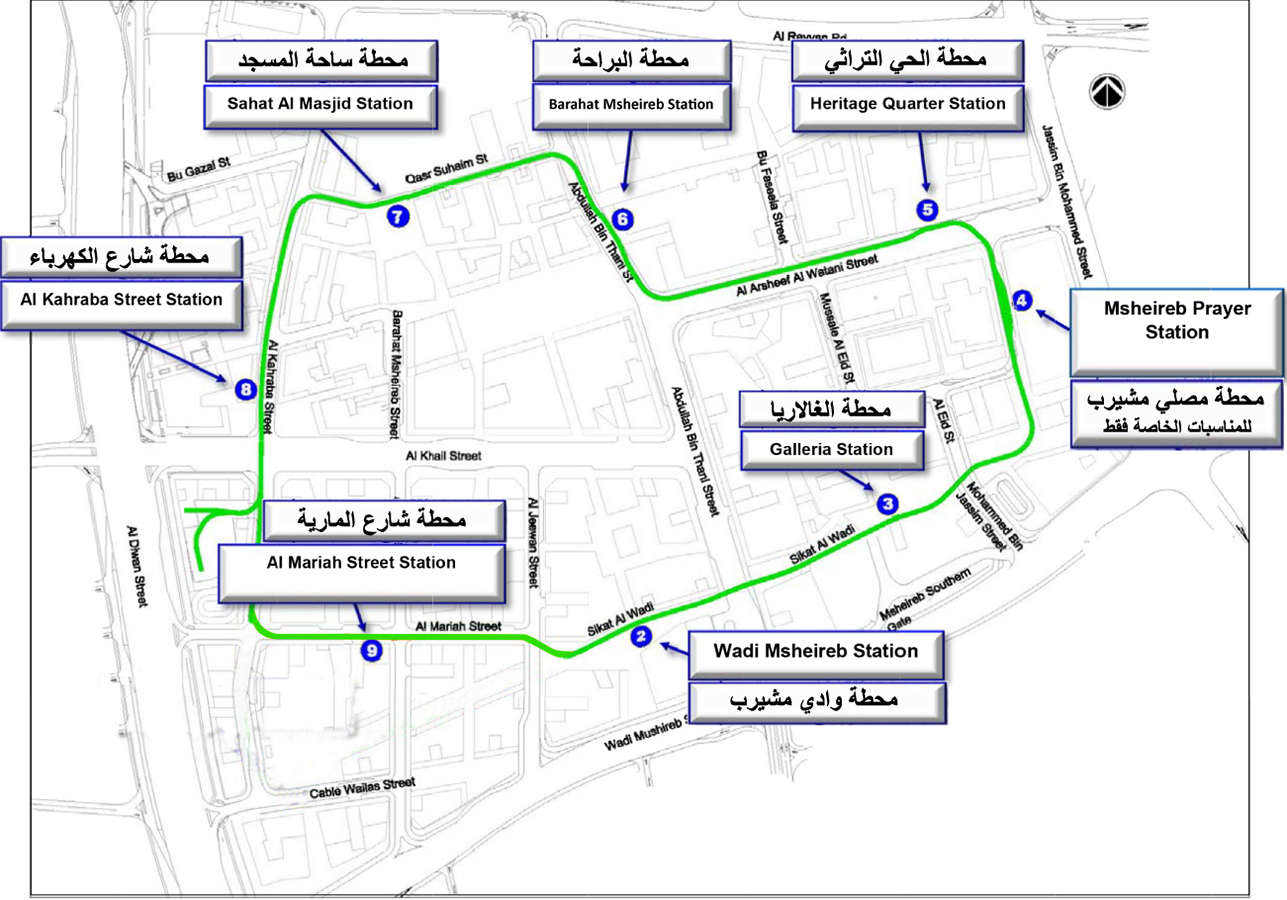 Msheireb Tram Timings
10am to 10pm from Saturday to Thursday, and between 2pm to 10pm on Fridays. Trams arrive every six minutes between 5.30pm and 9.30pm, and every 15 minutes outside of these hours. At 9.45 pm every night, the last tram leaves Wadi Msheireb station.
Cost of Msheireb Tram
The tram operates for free.
2) Buses in Qatar
The Mowasalat-Karwa bus service provides frequent, reliable service throughout Qatar, including Doha and all of its major communities. All buses are modern, air conditioned, have low floors, and most are wheelchair accessible. On longer routes such as those to Al Khor, Al Shamal, Dukhan, and Messieed, and the Airport Express, a new fleet of luxury buses with reclining seats are used. Bus routes connect Doha to Al Shamal, Umm Salal, and Al Khor in the north, Dukhan City in the west, and Abu Samra and Mesaieed City in the south. The West Bay shuttle service in Doha is among the most popular route in Qatar. The route connects West Bay to many places of interest, including the City Center, the Corniche, and Al Bidda Street. Between 6am and midnight, shuttle buses run every 15 minutes.
Timings - 4am to 11pm
Fare - QR 2.50 for short trips with a maximum single fare of QR 9 to Al Shamal and Abu Samra on the Saudi border.
Karwa Smart Card
In order to pay for your bus fare, you must purchase the Karwa smart card which you will tap when boarding the bus and when exiting. The card is available at vending machines at the airport, the Doha bus station, Pearl Qatar, and at dozens of merchant outlets in the city.
Types of Karwa Smart Cards:
Classic Card - A long-term rechargeable card that costs QR 30.
Limited Card - It can be used for two journeys within 24 hours of purchase and costs QR10.
Unlimited Card - It allows unlimited journeys within 24 hours of purchase and costs QR 20.
If a passenger boards without a smartcard, they will be charged 10 riyals.
Download the Karwa Bus app to check bus routes and timings.
Download the Karwa bus app for Android
Download the Karwa bus app for IOS
See Doha Bus Services' route map here.
Here are the bus schedules.
3) Taxis in Qatar
Qatar's taxi service consists of both government-run taxis (Karwa) and private taxi companies. Taxis operated by the government are generally considered reliable and safe, and they have fixed fares. Private taxi companies may offer various services, such as airport transfers or luxury vehicles, at varying prices. Taxi services should always be checked for safety and reliability before using it. Travelers can book taxis using mobile apps developed by taxi companies and travel to their desired location.
"Karwa" taxis are government-owned, safe, and convenient meter-operated taxis that are recognized by their turquoise green color. As a taxi service provider with the highest standards of customer service in Qatar, their vehicles are comfortable luxury sedans. Their vehicles are attractive, reputed, fitted & equipped with the latest technology that adheres to safety standards. They are driven by well-trained drivers who carry passengers safely and reflect Qatar's aspirations and reputation. For passengers with special needs, they have special taxis equipped with elevator mechanisms that can be rented at the airport and also booked in advance through their Call Center.
Taxi tariff:
All their cars are equipped with automatic tamper-proof meters, and the fare is fixed by the Government of Qatar. Fares are charged on a "Point to Point" basis.
Minimum flag fare at the airport starts at QR 25 and QR 1.6/km.
Within Doha the flag fall rate is QR 4 and QR 1.6/km
Outside Doha QR 1.9/km which also applies to night time fares.
Franchise Taxis
Four franchisees are currently operating cabs in the country's competitive taxi market, in addition to Karwa's own taxis, which were launched in September 2004.
Al Million - 500 taxis
Al Ijarah - 1000 taxis
Profit Trading - 1000 taxis
Ibn Ajayan Trading ( Capital taxi) - 500 taxis
Location and Contact Details of Mowasalat Karwa
To book - Dial 800-TAXI (8294)
You can learn more about Karwa taxis by clicking the link - Complete Guide About Karwa Taxis Qatar
4) Car hire
Qatar offers a wide range of transport options, including car rental. The international airport in Doha has several rental car companies, or you can arrange for a car by calling ahead or making an online reservation. There is a wide range of car rental services available, including international brands like Hertz and AVIS, as well as local operators. Upon renting a car in Qatar, foreign drivers must present their passports as well as carry an international license or a license issued from a GCC (Gulf Cooperation Council) country.
Here are a few car rental companies or services in Qatar
1) Al Muftah Rent A Car
Location and Contact Details of Al Muftah Rent A Car
2) Europcar
Location and Contact Details of Europcar
3) AVIS-Venture Gulf Rent A Car
Location and Contact Details of AVIS-Venture Gulf Rent A Car
4) Hertz Rent A Car
Location and Contact Details of Hertz Rent A Car
5) Strong Rent A Car
Location and Contact Details of Strong Rent A Car
6) Budget Qatar (Go Rent A Car Limited)
Location and Contact Details of Budget Qatar
7) Mustafawi Rent A Car
Location and Contact Details of Mustafawi Rent A Car
8) AL MANA Leasing Company W.L.L.
Location and Contact Details of AL MANA Leasing Company W.L.L.
9) Sixt Rent A Car
Location and Contact Details of Sixt Rent A Car
10) Prestige Cars Co. S.O.C.
Location and Contact Details of Prestige Cars
11) Regency Fleets
Location and Contact Details of Regency Fleets
12) Elite Motors
Location and Contact Details of Elite Motors
13) Rent Solutions
Location and Contact Details of Rent Solutions
14) AAB Rent A Car
Location and Contact Details of AAB Rent A Car
5) Limousine hire
The cost of chauffeured limousine service in Qatar is higher than taxi rates, but it is an excellent alternative if you want the convenience of having a driver while you are on vacation. Limo services vary in price depending on the passenger's needs, whether they want a standard limo service, a larger vehicle for groups, or a VIP experience. Qatar has several limousine services available for hire, including the government-run Mowasalat service. Among Doha limousine's fleet of luxury limos are Impala, Passat, Audi and Mercedes Vitto 7-seater. The Karwa App can be used to reserve a limousine for a future or immediate pick-up, or by calling 800-LIMO (5466) or 800-TAXI (8294).
Complaints about Qatar's Public Transportation
Public transport companies in Qatar should be contacted for complaints or queries. Dial 105 (from a Qatari phone number) or +974 44293777 (from a non-Qatari phone number) if you wish to complain about Metro, Lusail Tram, or metro-related bus services. Alternatively, you can contact the Doha Metro via their form on their website.
If you have complaints about Mowasalat buses or Karwa taxis, you can directly get in touch with Mowasalat or you can call 44588588 or contact the company via their form on their website.
There is no doubt that Qatar's government will remain committed to enhancing public transportation as the country grows and develops. Visitors and residents will have convenient, efficient, and sustainable transportation options available to them as Qatar continues to expand and improve its public transportation system.
Also Read:
Your Doha Metro Complete Guide
Complete Guide About Karwa Taxis Qatar
Taxi Services Available In Qatar
Your Guide To The Best Driving Schools In Qatar: Rates And Services
How To Report A Minor Road Accident Using Metrash2 App
How You Can Get A Driving License In Qatar
List Of The Professions Not Eligible To Apply For Driving License In Qatar