Things To Do During Holidays And Weekends In Qatar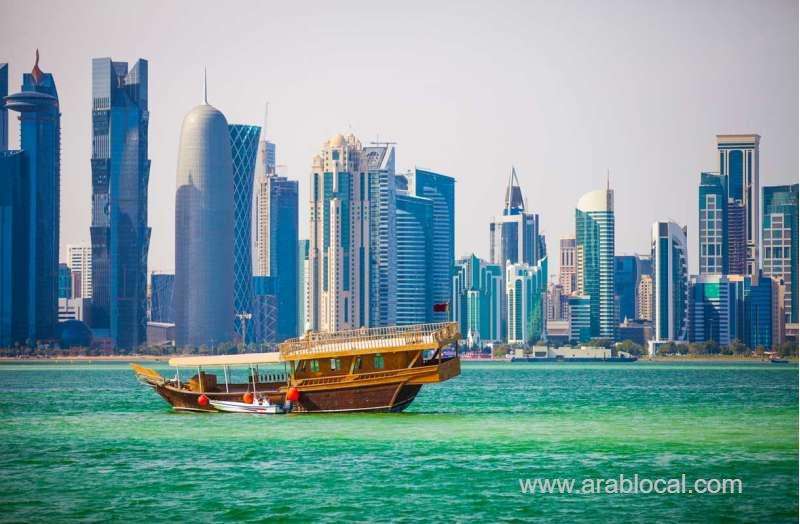 Activities that any traveller would find exciting in Qatar
Qatar, a country with roots in Western Asia and a reputation as one of the world's busiest transit hubs for international passengers, is all about luxuries and happy times. One of the main factors drawing visitors to Qatar in large numbers for vacation is the nation's well-known hospitality. One may find a wide variety of ways to have fun in this region of the world, from the best adventure sports and activities to some of the top sites to visit in Qatar. Watersports, art, culture, and a variety of sightseeing delights are among Qatar's most well-known attractions. This is a nation that has no bounds and consistently offers its guests the best services all year long.
Here is our expertly crafted guide for your next trip to Qatar if you are a traveller considering long weekend getaways or just a person curious about the world's most beautiful places:
1. A visit to the National Museum of Qatar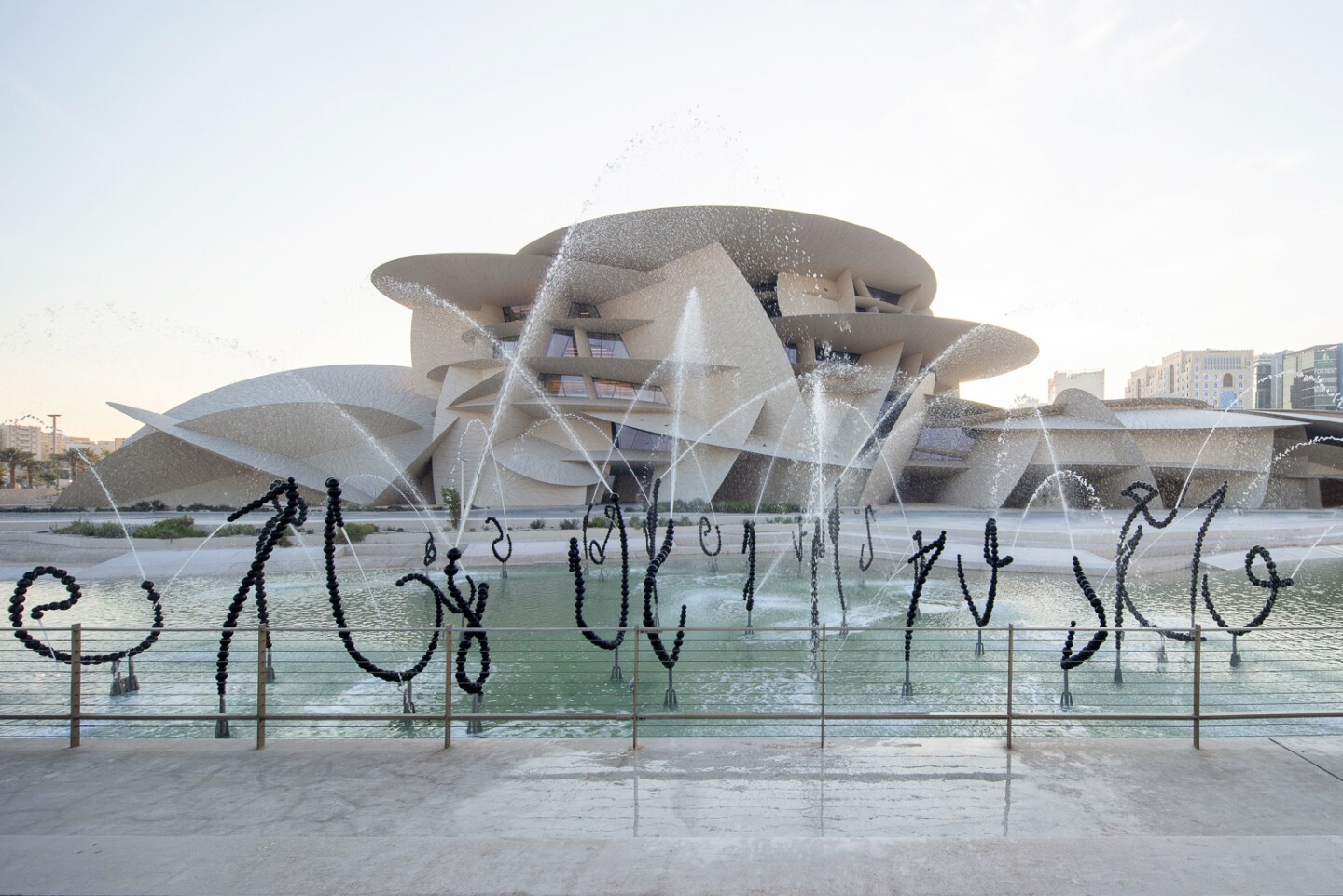 The National museum is a stunning piece of architecture, conveniently situated across the Gold Line metro stop, from which (and to which) you can catch free golf buggies, and worth visiting just for the architecture. Starting with the formation of Qatar, the museum concludes with a vision for the future. From the moment you enter this museum, you are immersed in its world. A futuristic yet silent architecture sets the tone for what lies inside. Qatar's culture and history are well represented in the museum. You can spend a little as 30 minutes or as much as 3 hours in the museum, but plan for at least 3 hours. With audio explanations and beautiful displays, there is much to see. In the museum, there are physical exhibits and digital video archives, keeping your attention throughout. Definitely a place for families and friends. It's suitable for all ages. There are interactive zones for kids at the museum, which is spacious, well-cooled, and well-lit. The museum is huge and should be visited in the morning, as it contains all Qatar's history, as well as numerous gifts that date back hundreds of years. The museum has a lot of shops surrounding it. There is an old museum at the end of the big museum tour, so if you are looking forward to visiting both museums, you should buy your tickets at the beginning.
Location and Contact Details of the National Museum of Qatar
Book Tickets for National Museum of Qatar
Age Group: All age group
Timing: Sunday to Wednesday 9 am to 7 pm, Thursday and Saturday 9 am to 9 pm, Fridays 1:30 pm to 9 pm
2. Explore The Holy Quran At The Museum Of Islamic Art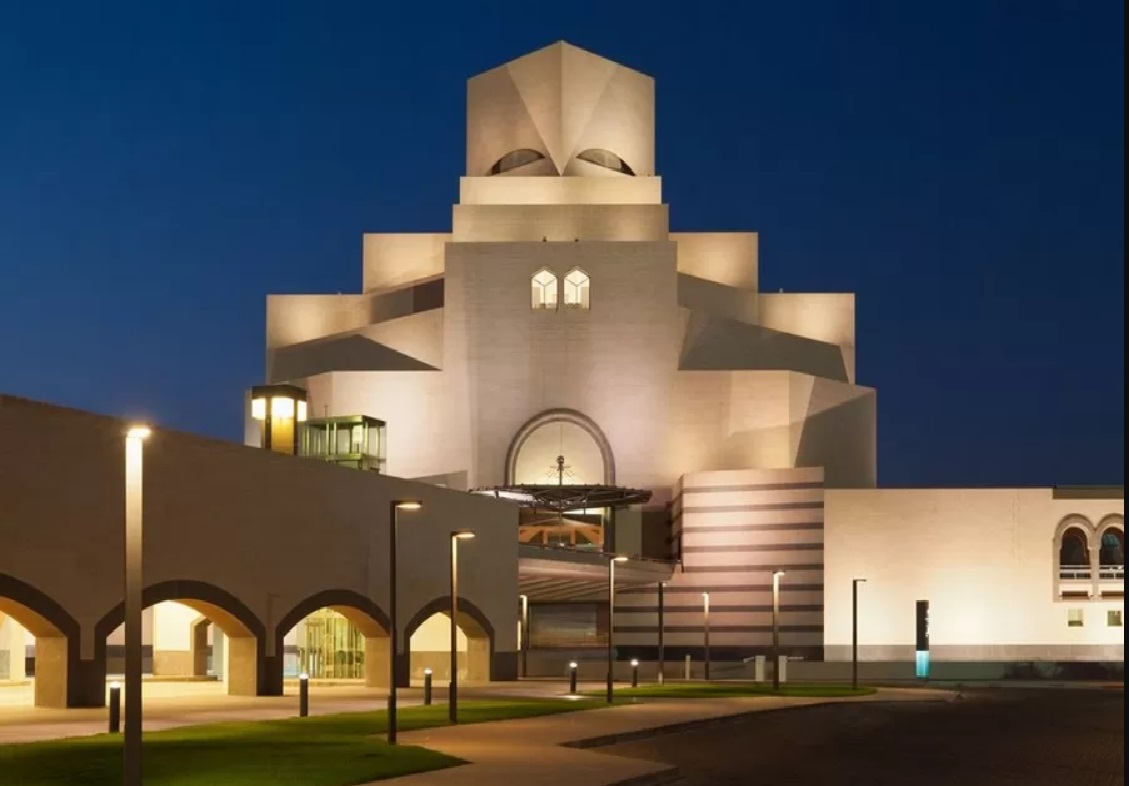 On one end of Doha, Qatar's seven kilometres (4.3 miles) long Corniche, there is a museum called the Museum of Islamic Art (MIA). MIA displays Islamic art from three continents spanning 1,400 years. The Museum of Islamic Art (MIA) houses one of the most comprehensive collections of Islamic art in the world, with masterpieces from every corner of the globe representing the diversity found in Islamic heritage. For audiences of all ages, they offer an array of engaging learning and outreach events and programs. The museum is accessible by car, taxi, and free shuttle bus. There is limited parking, but spaces fill quickly, especially on weekends. The parking lot is closed during major events. Free Mathaf shuttle buses run daily between 9am and 7pm with stops at the Arab
Museum of Modern Art, Qatar National Library, Fire Station, National Museum of Qatar, Museum of Islamic Art, and 3-2-1 Qatar Olympic and Sports Museum.
Additional free shuttle buses operate daily. Check the bus schedule given below: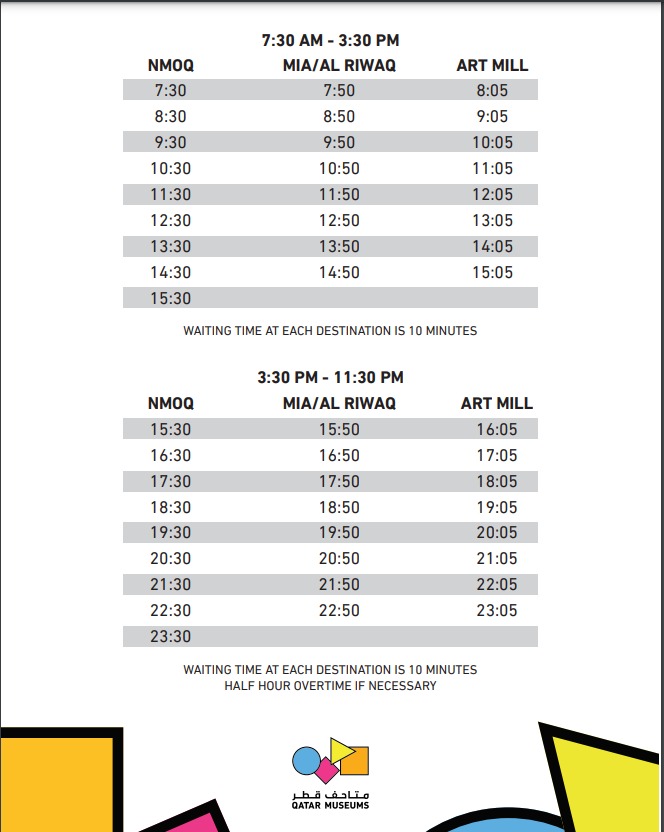 Please read the visitor's guidelines before you visit MIA
Location and Contact Details of The Museum Of Islamic Art
Book Tickets for The Museum Of Islamic Art
Age Group: All age group
Timing: Saturday to Thursday 9 am to 7 pm, Fridays 1.30 to 7 pm
3. Explore Qatar's diverse cultures at Katara Cultural Village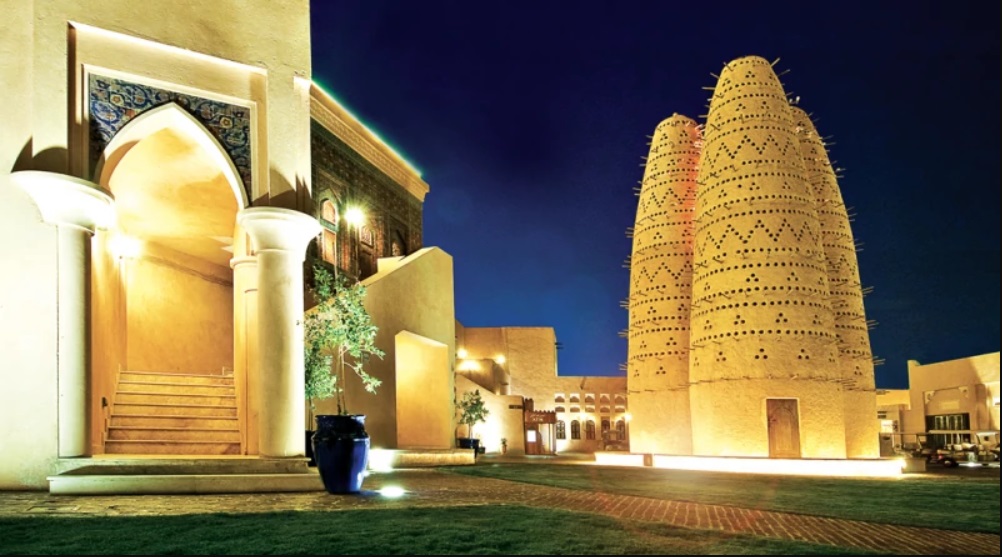 Is there any place in Qatar that has a significant connection to art and culture? The Katara Cultural Village is the solution. You will be welcomed by Katara Cultural Village with a wide range of exciting attractions and activities. Starting with touring the famous locations within Katara Cultural Village, such as the Katara and Gold Mosques. The location also contains an amphitheatre with Islamic influences. Between the amphitheatre and the river, there is a stunning artwork called The Force of Nature. In terms of art, you may see more in art galleries. Visit the beach in Katara Cultural Village to take in some nature in addition to the art and culture there. Even water sports like water skiing and speed boating are available. It will take you 2-3 hours to visit Katara village.
Location and Contact Details of Katara Cultural Village
Age Group: All age group
Call Centre Number: 182
Timing: Open 24 hours
4. Explore the Film City at Zekreet (Brouq) Peninsula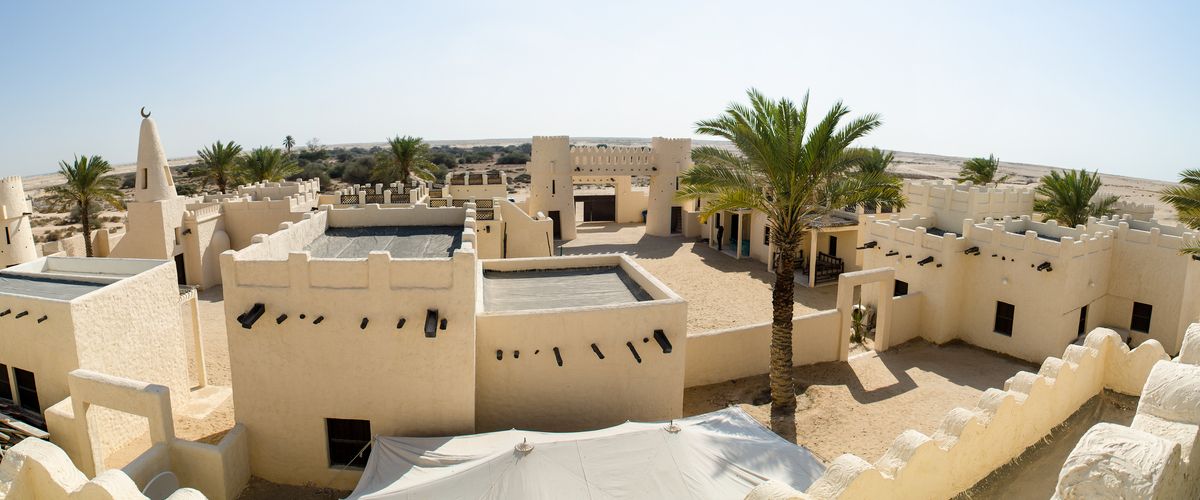 On the Brouq or Zekreet peninsula, where no one lives but well-kept town. This man-made city, known as Film City, was created for Arabic television programmes. The same television series used Mystery Village, another community that is close by. Despite being far from Doha, the drive is manageable with a 4WD (80 km). Kids enjoy seeing the local wildlife, such as Oryx and ostriches. It is a lovely area to explore. There is an interesting geological landscape on the Zekreet peninsula. Salt flats, plateau rocks, and open desert make up the majority of the landscape here. A little shop nearby offers bottled drinks and potato crisps. Parking is accessible. You should leave for Doha on your return trip at least 1.5 hours before dusk to avoid having to drive the graded road in the dark. You should bring twice as much water as usual, as well as snacks, caps, and sunglasses, just to be cautious.
Location and Contact Details of Film City in Qatar
Age Group: All age group
5. Traditional shopping experience at Souq Waqif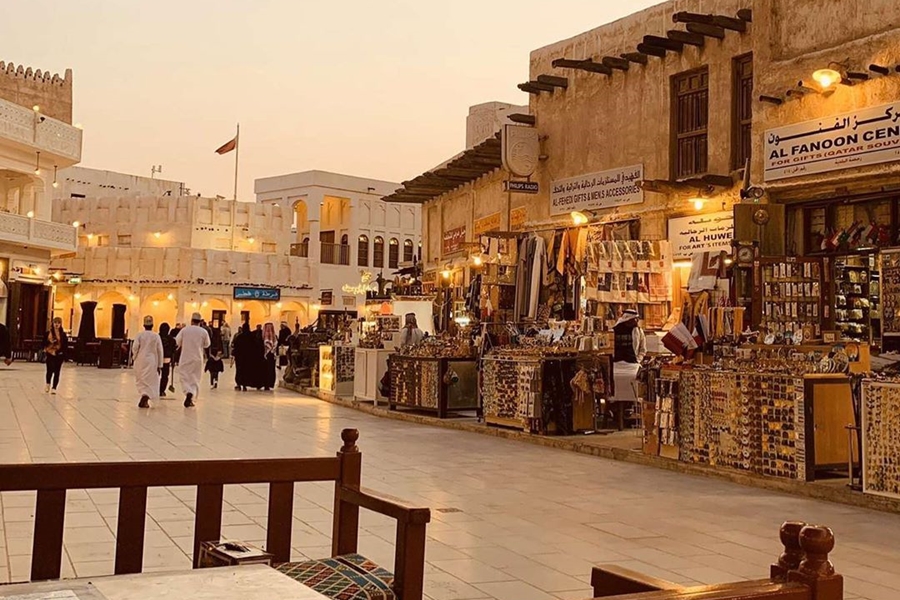 The Souq is located on the Corniche in Doha. It has underground parking for 3,000 cars and is near a metro station. Visit during the early evening or Saturday morning when the Souq is busy. The Souq has hundreds of shops, restaurants, cafes, and food stalls, and many locals and residents visit it in the evening for dining and relaxing. Besides tourists, many locals and residents shop here for everyday items, as well as for fragrances, oud, and jewellery. It is often cheaper than in Doha. Additionally, there is a Pet Souq within the Souq that sells birds and small domestic pets, which some people may find disturbing. The Souq has a wide variety of items you can buy and you can expect some bargaining over prices in some shops. You should plan on spending at least 2-3 hours exploring the area, plus time for dinner, coffee, and snacks. This is a must-see part of your Qatar visit, and as a resident you can visit regularly to soak up the atmosphere.
Location and Contact Details of Souq Waqif
Timing: Saturday to Thursday from 10 am to 2 pm and 3 -11 pm, Fridays - 10 am to 12 pm and 3-11 pm
6. Experience kitesurfing on Qatar's beaches (Sealine Beach, Katara Beach, Banana Island)
In the sport of kiteboarding or kitesurfing, a rider is carried over a body of water, land, or snow by a sizable power kite. It incorporates elements of wakeboarding, skateboarding, snowboarding, windsurfing, surfing, and paragliding.
Sealine Beach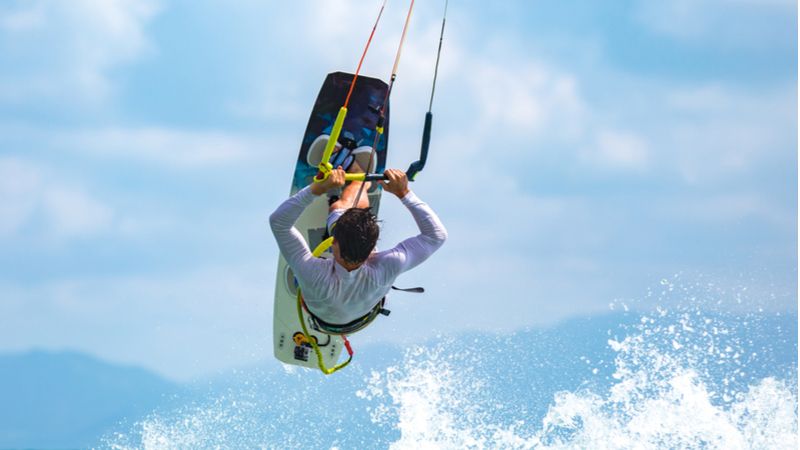 There is a good reason why Qatar has become one of the best locations in the world for kite surfers. In general, the country's climate is ideal for kiteboarding, and Sealine Beach is the best location as travelers can engage in affordable kitesurfing activities at the Sealine Beach, one of Qatar's top beaches. There are numerous local companies in the area that provide kitesurfing for between QAR 700 and QAR 900 per person. The mainlights of the beach are water activities (especially kitesurfing), Jetski, Barbeque facility, ATV experience, Desert Safari and swimming. This beachside destination in Qatar is wonderful. The beach offers breathtaking views of the setting sun with its deep blue waters and fine sand coastlines. Witness the most extraordinary sensation of enjoying nature and experiencingthe shivers of adrenaline.
Location and Contact Details of Sealine Beach
Katara Beach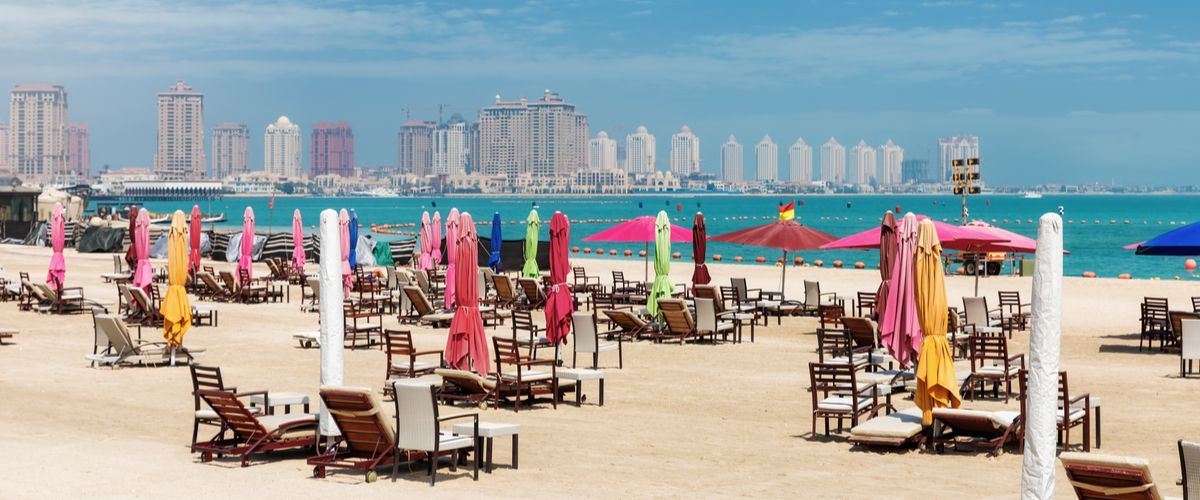 Katara Beach, the sole public beach in Doha, is tucked away in one of Qatar's most gorgeous neighbourhoods and provides guests with a number of amenities. Here, children can play in a separate area while adults can enjoy water sports. Therefore, if you are interested in outdoor recreation in Qatar, try kite surfing at Katara Beach; you won't be disappointed. While kitesurfing is one of the things visitors may do here, Katara Beach is also a very popular place for parasailing, water skiing, and speed boat trips.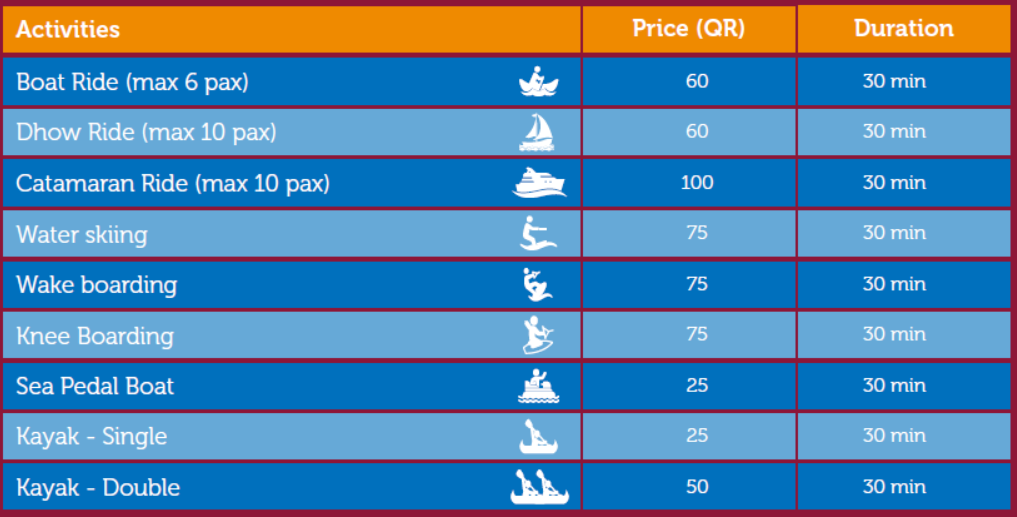 Location and Contact Details of Katara Beach
Age Group: All age group
Timing: Katara beach number 3, 4 and 5 from 3.30 pm to 11 pm

Banana Island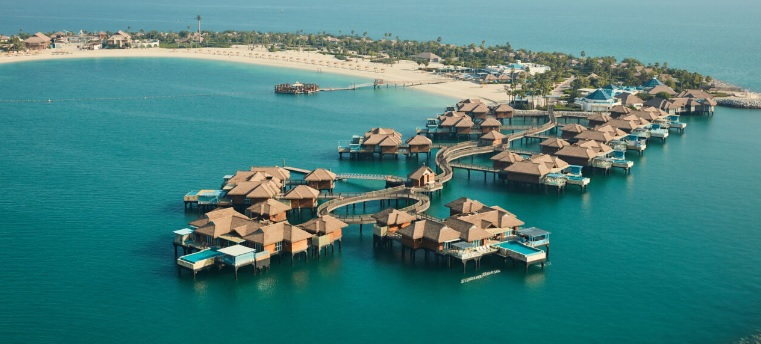 The Banana Island Resort's Banana Island is one such location where visitors may experience kitesurfing at its best. Even though this is a private beach, visitors can acquire access to the pool and beach by purchasing a day permit for about QAR 350. While scuba diving and snorkelling are very popular here, kitesurfing is also available at Banana Island for a reasonable price.
Location and Contact Details of Banana Island
Age Group: All age group
Timing: Open 24 hours
7. Enjoy the beauty of Qatar's Inland Sea Beach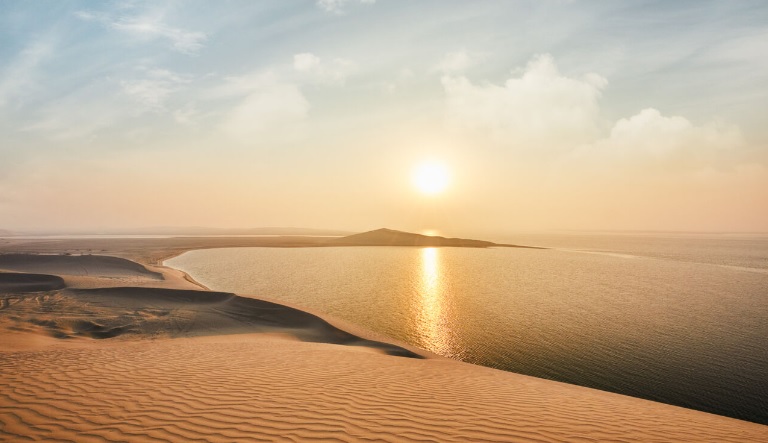 You will undoubtedly become engrossed in the place's refined beauty when visiting Khor Al Adaid, an Inland Sea Qatar. It can be difficult to realise that the stunning scenery created by the turquoise blue ocean and interesting golden tone sand is actually real at times. Plan a trip to this appealing sea to take in the breathtaking sights and a variety of activities. During the trip, you will also have the opportunity to engage in some thrilling dune-bashing, everyone can enjoy this trip. It is ideal to visit Khor Al Adaid during the winter months of November through April, when the weather is cool, pleasant, and ideally suited for blending with the scenery. Visit the UNESCO recognized Mesaieed natural reserve and enjoy the sand dunes, open sea and traditional Qatari snacks as you tour the natural reserve.
Location and Contact Details of Khor Al Adaid Inland sea
Age Group: All age group
Timing: It depends on the tour operator one chooses
8. Enjoy a fun-filled day at the Doha Festival City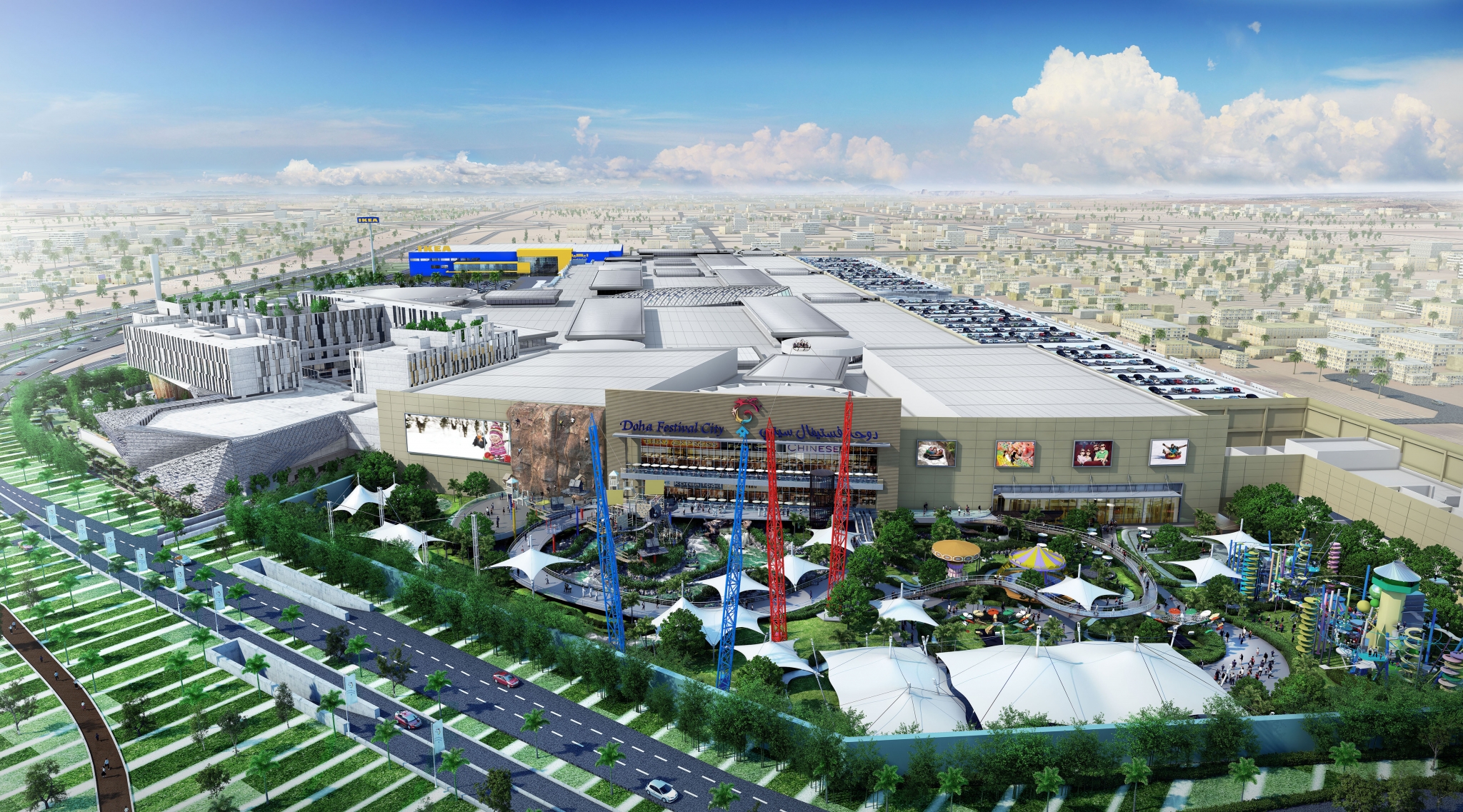 The Doha Festival City is Qatar's premier shopping, dining, and entertainment destination. More than 100 restaurants are located in the mall, including some of the world's most popular chains. Children can enjoy a variety of fun rides inside. Angry Birds World is the first arcade park in the world, Virtuocit is the gaming capital of the region, Snow Dune is the first Arabian-themed indoor snow park, and VOX cinemas provide immersive movie-watching. There is only one IKEA branch in Qatar located at Doha Festival City. You can spend your entire day at Doha Festival City this way.
Location and Contact Details of Doha Festival City
Age Group: All age group
Timing: Saturday to Wednesday from 10 am to 10 pm, Thursday and Friday from 10 am to 11 pm
9. Watch the sunset from the traditional Dhow Cruise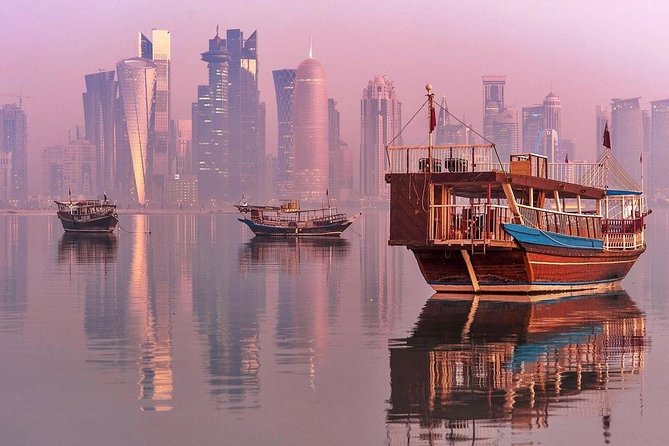 Take a classic Dhow sail and watch the sunset in Doha if you're seeking for an experience that will stay with you forever in Qatar. Riding a wooden dhow in Doha is the most opulent experience and is rated as one of the top things to do in Qatar. These ships are lit up at night, turning the quiet sea into a vibrant wonderland. You will see some of Qatar's most stunning locations on the voyage, including the Doha Corniche and the Qatar Pearl, among others. To fully enjoy the holiday, visitors can take part in events like traditional music and dancing as well as other recreation activities. The Dhow Cruise Dinner is intended to be the most delectable meal you may have in the nation in order to enhance your experience. This heightens the feeling of luxury because the cuisine is delicious and full of Qatari tastes. To round up your dining experience, buffet lunches, barbecues, and other food options will be available. The cruise generally departs from Doha Corniche in Qatar.
Location and Contact Details of Dhow Cruise
Age Group: All age group
10. Indulge in the Venetian atmosphere at Villaggio Mall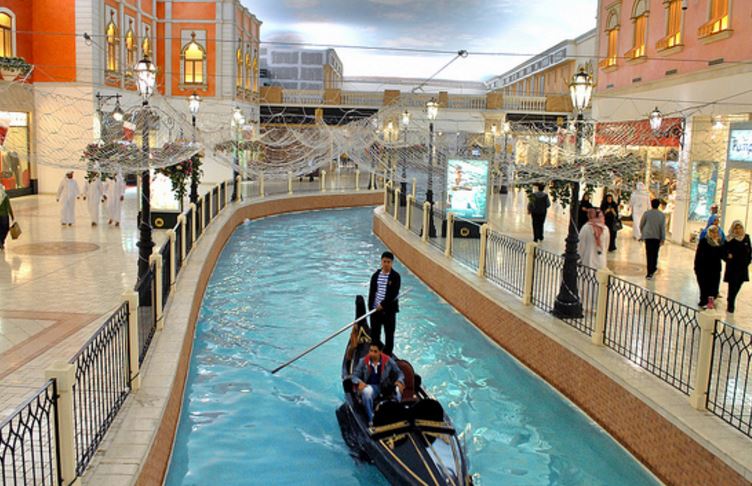 The Villaggio Mall, one of Qatar's best shopping destinations, is a must-visit location when in Doha for vacation. The mall is proud of its magnificent architecture and first-rate tourist amenities. To truly enjoy time with family, one can either take a gondola ride around the mall's indoor canals or go to the movie theatre or ice rink. More food outlets and vendors are operating inside the Villaggio Mall, providing tourists with the greatest feasts. Visitors have a lot more to enjoy at the location, from the top clothes boutiques to the best entertainment alternatives. Kids can choose from a variety of entertainment options. The best part is there is a sizable parking lot with space for more than 3300 cars, as well as an inside canal that was inspired by Venice.
Location and Contact Details of Villaggio Mall
Age Group: All age group
Timing: 9 am to 12 am
11. Enjoy a day trip at Aspire Park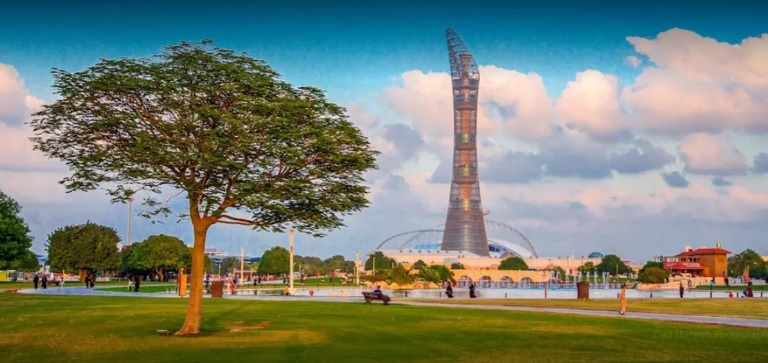 One of Doha's biggest parks, Aspire Park is a popular place for locals to stroll in the morning and the evening with friends or family. The park's features, which include a jogging track, football fields, and a kids' play area, make it a great place for families to unwind and refresh. The solar-powered lighting, waterfalls, and vegetation add a soothing visual charm to the area that will increase your appreciation for the natural world. The environment is calm, which makes it perfect for spending a day in Doha, Qatar, and taking part in various leisure activities. The Park is extremely well-liked since it features the only artificial lake in the nation with a variety of aquatic life. The park also has several unique plants that were brought in from all around the world, like boab trees and floss silk trees. Additionally, there is a café nearby where you may get coffee and food. The park is a short stroll from the Villagio shopping centre, Torch Tower, and other sights. You can shop and then unwind in Qatar's rich, magical beauty.
Location and Contact Details of Aspire Park
Age Group: All age group
Timing: Open 24 hours
12. Learn about the Falcons' at Falcon Souq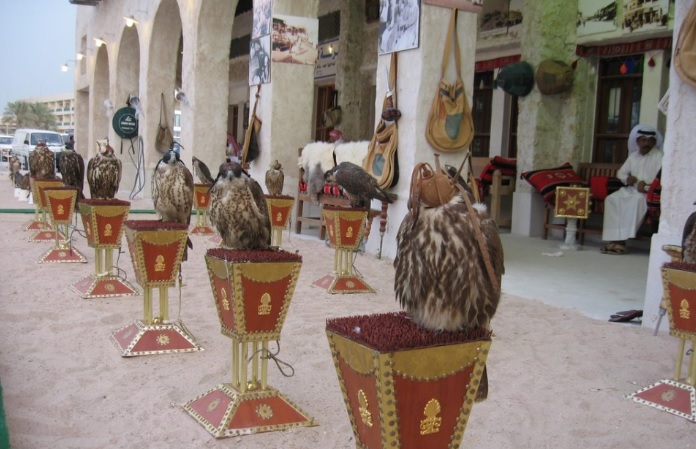 The Falcon Souq in Doha, Qatar, is the ideal location for learning about the significance of these enormous birds in Arabian history and culture. These birds are the focus of the Souq, which also sells medical supplies, gloves for falconers, bird's eye hoods, cuffs, and leg restraints. At the Souq, there is a hospital devoted to the care and welfare of these native bird species. The UNESCO has recognised falconry as an Intangible Cultural Heritage. Attend the Falcon auction that is held for the Falconers while you are in Qatar for some amusement and adventure. The size, skills, and other attributes of the birds are shown and sold accordingly. Anyone travelling to Qatar should attend the auctions to have a closer look at falcons because they are fairly expensive there. Make sure your presence does not hurt these treasured birds by keeping a respectful distance from them.
Location and Contact Details of Falcon Souq
Age Group: All age group
Timing: 7 am to 1 pm, 5 to 9.30 pm
13. Experience the fascinating world of Illusions at Museum of Illusions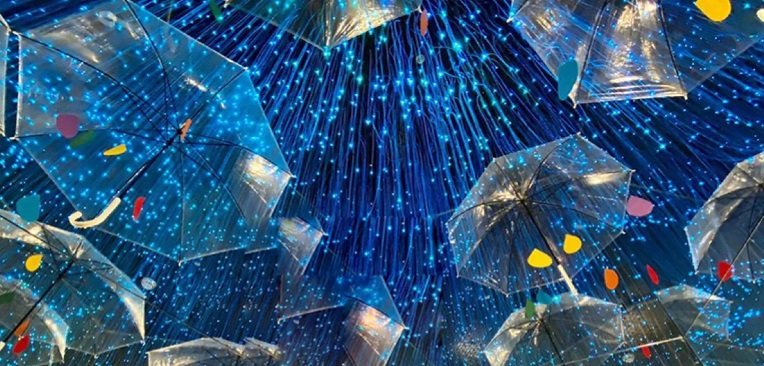 In Doha, you must visit and enjoy the Museum of Illusions. Enter the amazing world of illusions, which will confuse you entirely while simultaneously educating you. Illusions will challenge your faith in your own senses, but they will also amaze you by doing so. Nothing is as it seems, especially not in the Museum of Illusions, which will excite you! Fantastic illusions are presented at the Museum of Illusions, which will both entertain and educate you. Science, arithmetic, and human brain tricks are used to produce a humorous end product. You will also have the option to participate in a number of games that will challenge your understanding of the regular assumptions we make about the outside world. The only Museum of Illusions with Braille and highly trained staff, it opened in Doha in 2019. Additionally, the Museum ensures a comfortable stay and fosters a welcoming environment for visitors with special needs. The area is perfect for meetings such as birthday parties, event gatherings, team building exercises, and family and group visits. Plan your trip and go on an interesting adventure.
Location and Contact Details of Museum of Illusions
Age Group: All age group
Timing: Saturday to Thursday from 9 am to 10 pm, Friday 1 to 10 pm
14. Discover the Deserts of Doha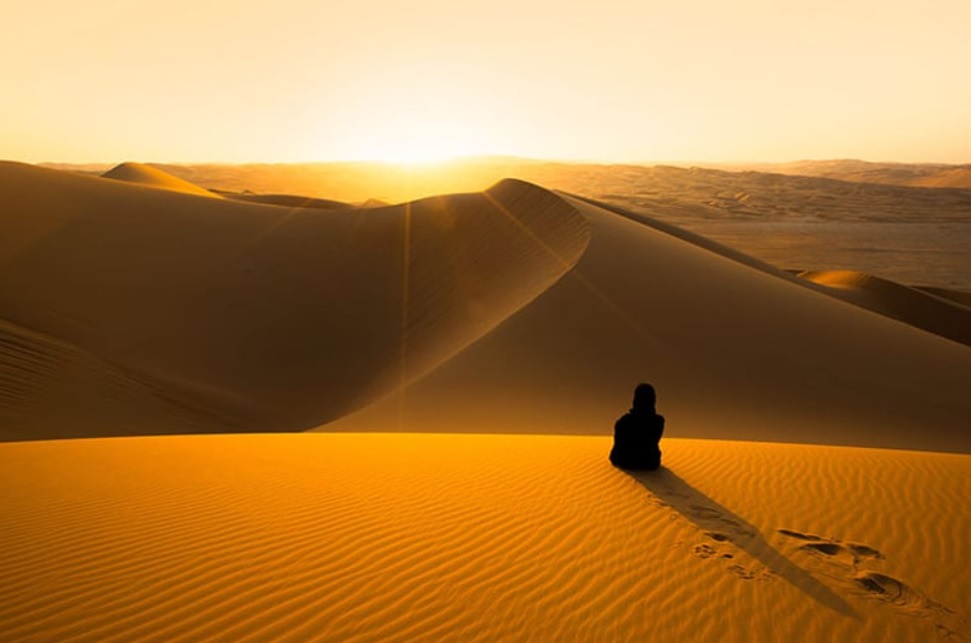 Qatar has both a desert and a sea. Therefore, another destination to visit in Qatar is undoubtedly the desert. You look forward to visiting Qatar's stunning Doha Desert. You can experience so many different things in the Doha Desert, which will make your trip to Qatar even more memorable. You can ride a camel and wander the desert as though you were a real-life Qatari native, ride a jeep and see the most breathtaking panorama of the Doha desert, try sandboarding, or get in a 4x4 and go on an intense adventure.
Location and Contact Details of Doha Desert
Age Group: All age group
15. A Vintage Car Lover's Paradise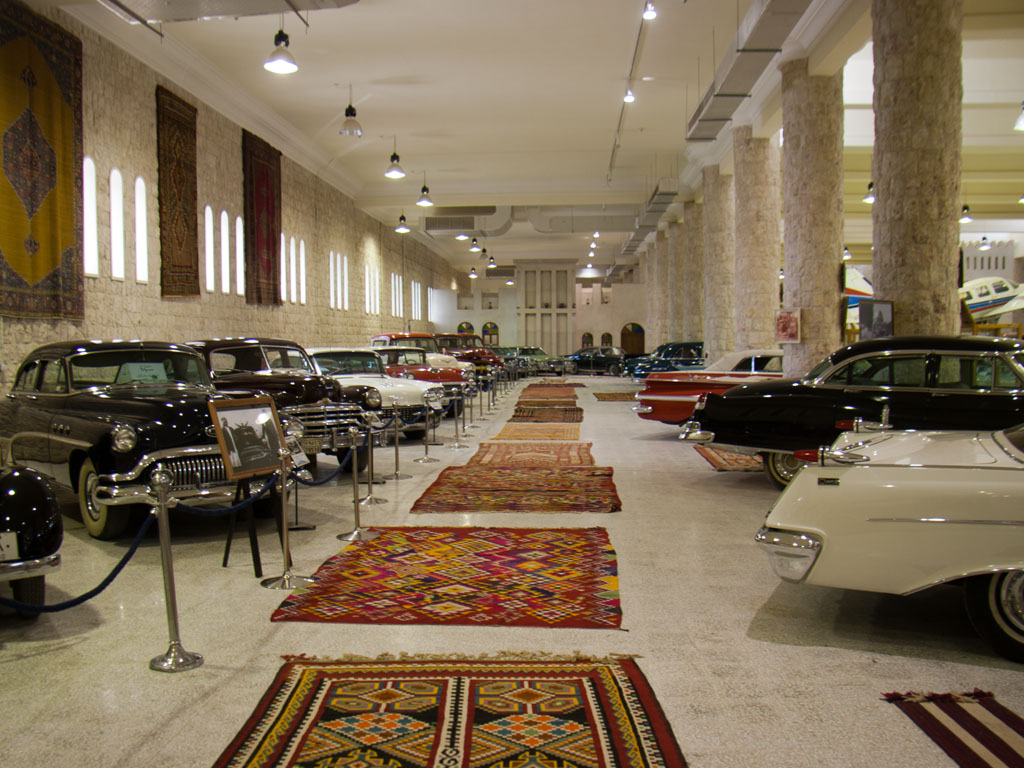 The incredible automobile collection of the Car Museum Qatar, also known as the Sheikh Faisal Bin Qassim Al Thani Museum (FBQ Museum), astounds guests from all over the world. Sheikh Faisal does in fact share his experiences with the public through the museum. The impressive car collection at the FBQ Museum is a remarkable illustration of Sheikh Faisal's exceptional taste in vehicles. The collection is full of classic vehicles, including trucks, limousines, and convertibles. Additionally, each vehicle in the collection is in perfect operational order. The FBQ museum should thus be on your trip agenda the next time you visit Qatar if you're a vehicle enthusiast. Over 600 historic cars are on show for visitors at the car museum, according to data. Sheikh Faisal, who is renowned for his generosity, lends automobiles from his magnificent collection to auto fairs and exhibits.
Location and Contact Details of Car Museum
Age Group: All age group
Timing: Monday to Thursday 9 am to 5 pm, Friday 2 to 7 pm, Saturday 10 am to 6 pm and Sunday Closed
16. Enhance the Architectural Wonders from Doha Corniche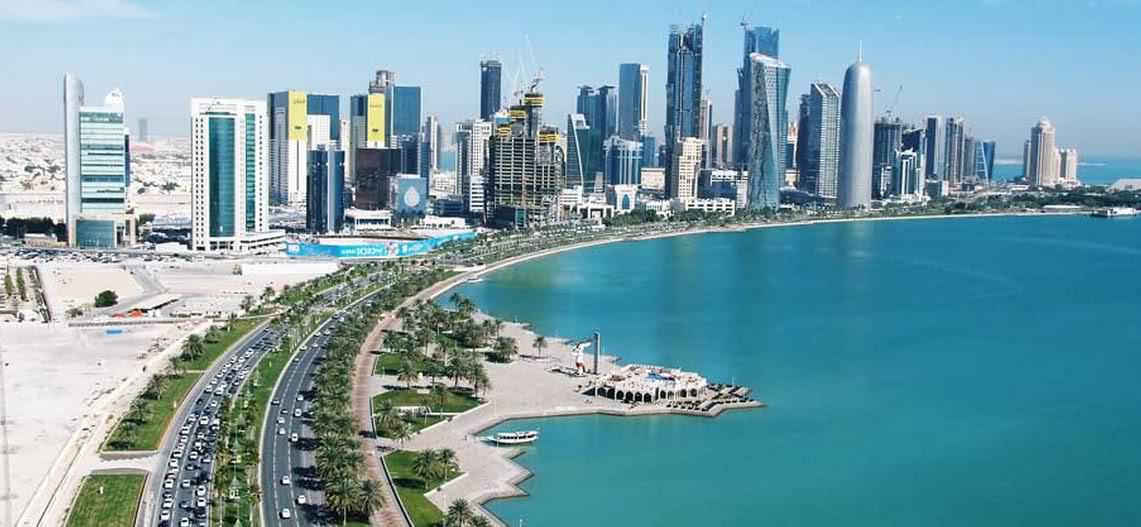 The Doha Corniche, a seven kilometre stretch of stunning promenade overlooking the peaceful coastline, is one of Doha's most recognisable attractions. The Corniche, which has a crescent-shaped walkway encircling Doha Bay, provides the greatest views of the city's contemporary skyline and serves as the focal point of events like the National Day celebrations and National Sports Day. Take a boat ride to take in the view of beautiful city while watching the dhows illuminate the Corniche in the evenings as you stroll around the harbour. If you enjoy water sports, you shouldn't miss out on the chance to go jet-skiing along the corniche. For a reasonable fee, one can rent a jet ski and spend 20 to 30 minutes in the warm ocean. There is still much to learn about the Corniche, a seven kilometre strip that is home to renowned eateries and cafés where tourists can enjoy great cuisine.
Location and Contact Details of Doha Corniche
Age Group: All age group
Timing: Open 24 hours
17. Discover Al Zubarah's Archaeological Fort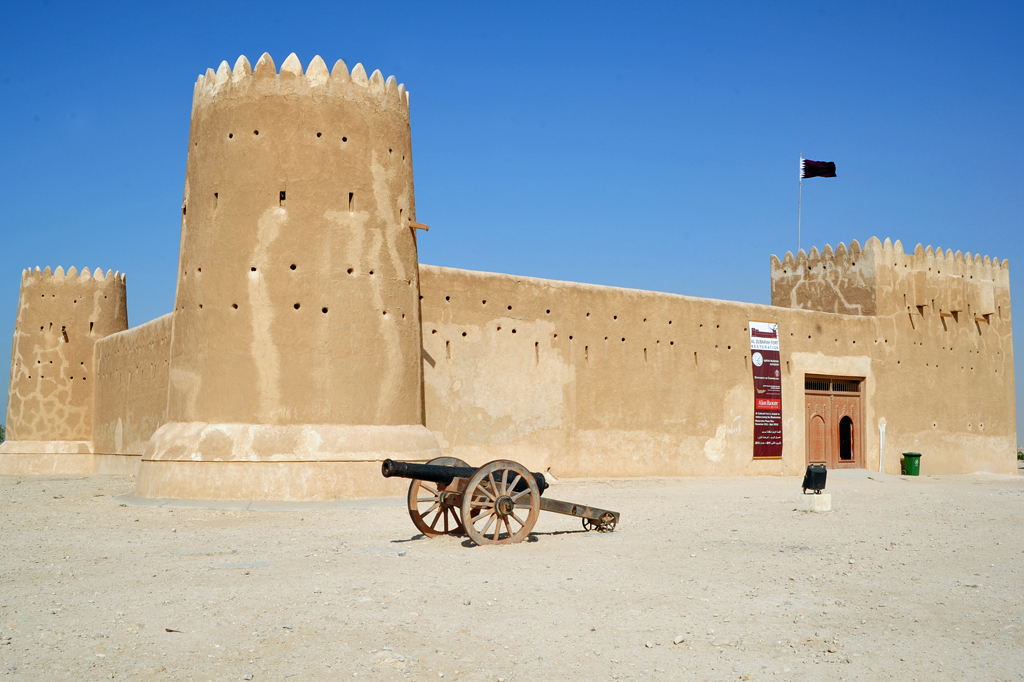 Sheikh Abdullah bin Jassim Al Thani constructed Al Zubarah Fort, one of the most well-known historical sites in Qatar, which is situated on the outskirts of Doha. There is a lot to do in Qatar when on a fort excursion, from appreciating its significance to taking in the scenery. The fort had great significance in the area when it was first constructed in 1938 as a coast guard station. Al Zubarah, however, changed into a police station after the Coast Guard was evacuated at the time. The Zubarah Fort is made up of four towers total, three of which are circular and one of which is rectangular. Al Zubarah Fort's interior features numerous historic rooms constructed of compressed earth and cement. Tourists shouldn't miss the amazing artwork and other priceless archaeological finds in the rooms. This is a location that historical explorers should use all available means to explore. Al Zubarah deserves praise for being a significant part of history.
Location and Contact Details of Al Zubarah Fort
Age Group: All age group
Timing: 9 am to 5 pm, Friday and Saturday Closed
18. State Grand Mosque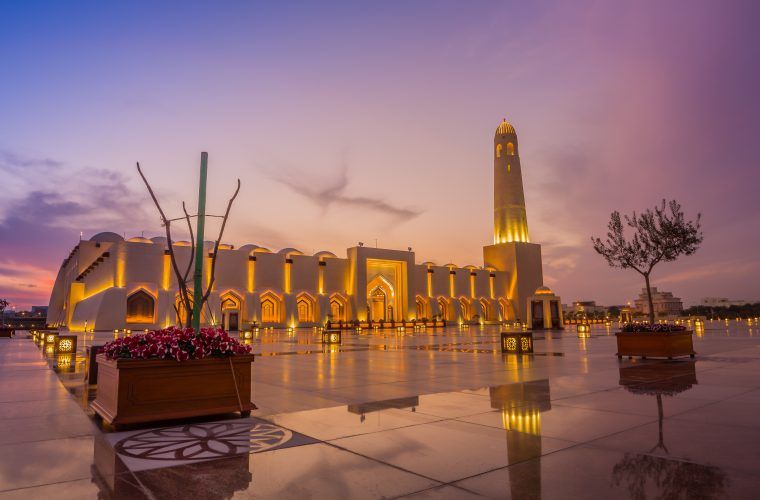 Imam Abdul Wahhab Mosque, commonly known as the Qatar State Grand Mosque, was opened in 2011 and is the biggest mosque in Qatar. Sheikh Jassim bin Mohammed Al Thani, who founded Qatar, built the State Grand Mosque in honour of his father. It bears the name of Saudi Arabian reformist preacher and scholar Imam Muhammad ibn Abd al-Wahhab. Despite being eye-catching, its straightforward lines and beautiful arches are typical of Islamic architectural history. The mosque can accommodate more than 30,000 worshippers and has three libraries, separate prayer and ablution rooms for men and women, and special rooms for Quran memorization. The sandstone mosque is the largest in the nation and commands stunning views of the Doha skyline thanks to its sequence of arches and domes. During the hot summer, earth-colored marble floors keep worshippers cool, and passageways with tiny domes provide shade. A total of 93 domes make up the mosque, some of which sit atop the prayer niche or mihrab and the prayer hall. Along with a full schedule of social, educational, and cultural events, religious instruction is provided all year long. During non-prayer hours, anybody may enter, regardless of their place of worship, though guided tours are advised. Before entering the mosque, everyone must take off their shoes. Visitors are advised to wear conservative
clothing, and women are given abayas or scarves to cover their heads as necessary. Food is not permitted inside, and guests are expected to show decorum and respect as they would in any place of worship. No one under the age of seven is allowed, and taking pictures is not allowed in the women's prayer area.
Location and Contact Details of Imam Abdul Wahhab Mosque
19. Visit the Qatar National Library to learn about Qatar's beautiful past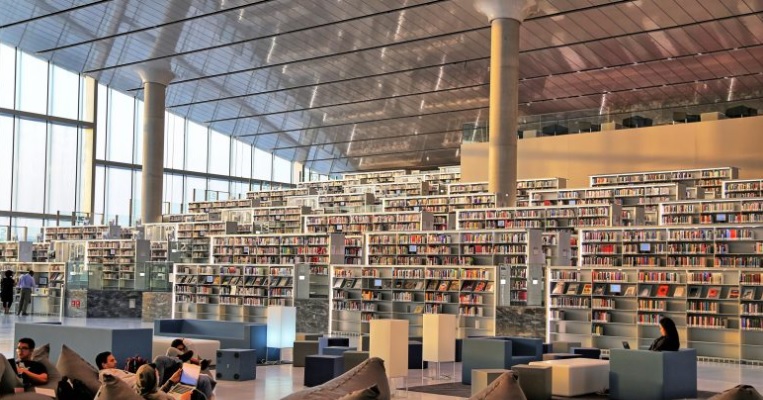 The Qatar Foundation for Education, Science, and Community Development founded the library in 2012. His Highness Sheikh Tamim Bin Hamad Al Thani officially opened the library later in 2018. This well-known tourist destination in Qatar has served as a location to explore deeper into the past and learn in-depth facts about Qatar and other countries in the sub-continent. The library was built with the intention of providing a space for social learning as well as a platform for the preservation of the legacy and culture of the Arabian Gulf. This library in Qatar has 500,000 publications, eBooks, and newspapers.
Location and Contact Details of Qatar National Library
Age Group: All age group
Timing: 8 am to 8 pm, Friday from 4 to 8 pm
20. Discover The Untold Stories of Qatar at Msheireb Museum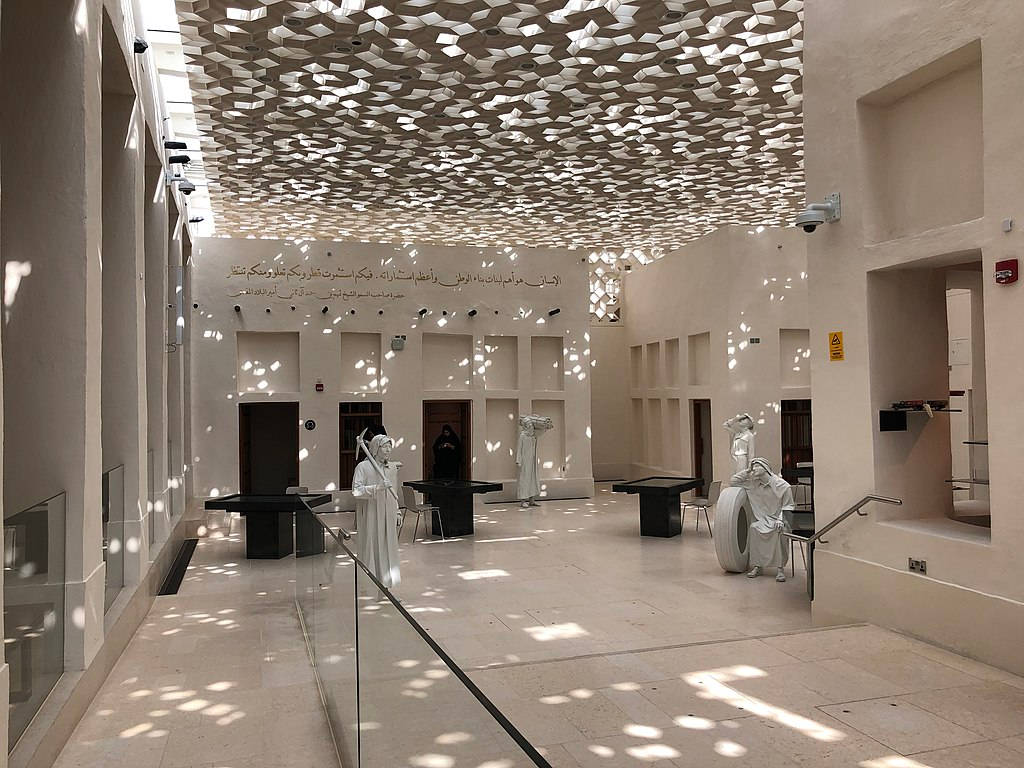 In the centre of Msheireb Downtown Doha, the Msheireb Museums recount the tale of four extraordinary historic homes. You embark on a journey with The Houses to discover some of the most fascinating undiscovered tales from Qatar's socioeconomic past. The museums demonstrate how Doha evolved from a little fishing village at the beginning of its journey and overcame such challenges, among many other things they have to offer. The location is ideal for individuals who want to comprehend Qatar's history from its earliest periods in all of its varied elements. The four different houses that are a crucial component of the museum are Bin Jelmood House, Mohammad Bin Jassim House, The Company House, and The Radwani House. This museum is appropriately referred to as a cutting-edge museum since it depicts the history and way of life of those who once resided in Qatar and emulates their contributions to the country's growth and modernisation.
Location and Contact Details of Msheireb Museum
Age Group: All age group
Timing: 9 am to 5 pm, Friday 3 to 9 pm, Sunday closed
21. Explore the collection of modern and contemporary art at Mathaf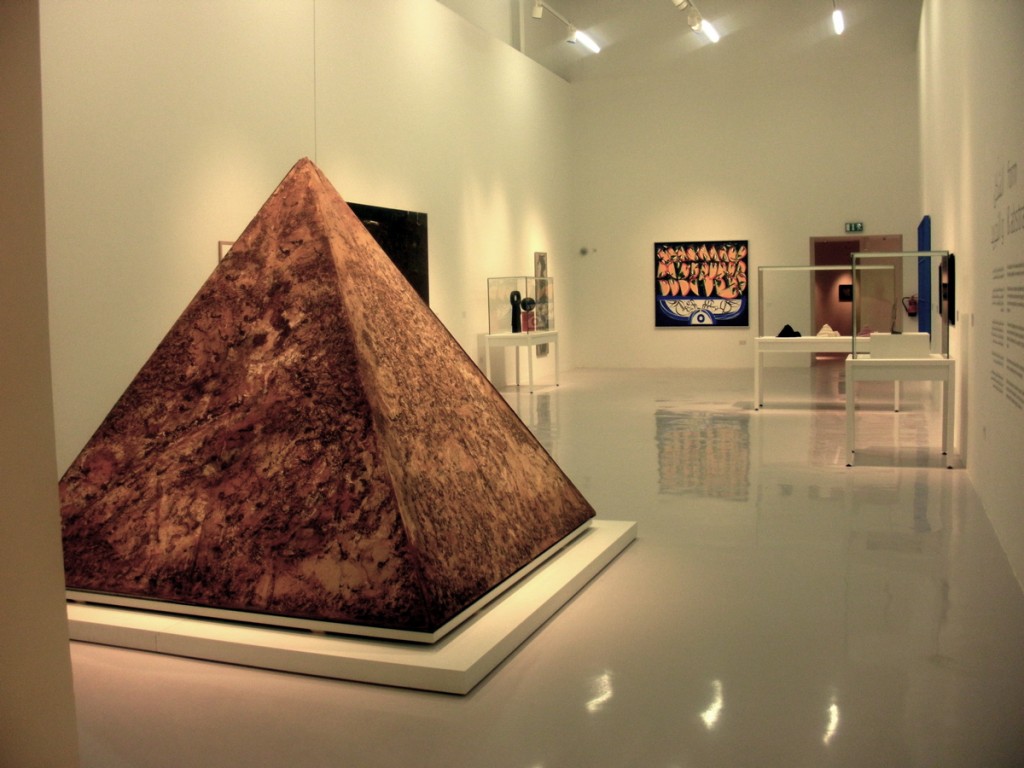 Within the Education City complex, Mathaf is located in a renovated school building created by renowned French architect Jean-François Bodin. Mathaf, one of Qatar's most significant cultural landmarks, offers an Arab viewpoint on modern art. One of the largest collections of Arab-made art in the world is created by the works on show, which tell the tale of the Arab world as seen by its artists and are presented in a variety of art genres, including paintings, mixed media, and sculpture. Over 9000 works of art that have been acquired over a 25-year period are on display there. It offers free shuttle service for its tourists and gives them a free tour of the museum, explaining everything about each individual piece. The museum strives to start conversations through hosting exhibitions, educational programmes, as well as an annual competition and exhibition for students. An on-site library at Mathaf has a wide selection of literature on modern and historical art, with an emphasis on the Arab world. The multilingual Mathaf Encyclopedia is a free, online resource for scholars that offers fundamental
knowledge and in-depth analysis of Arab modern art.
Location and Contact Details of Mathaf Museum
Age Group: All age group
Timing: 9 am to 7pm, Friday from 1.30 to 7pm
22. Witness Qatar's Best Historical Treasures at Radwani House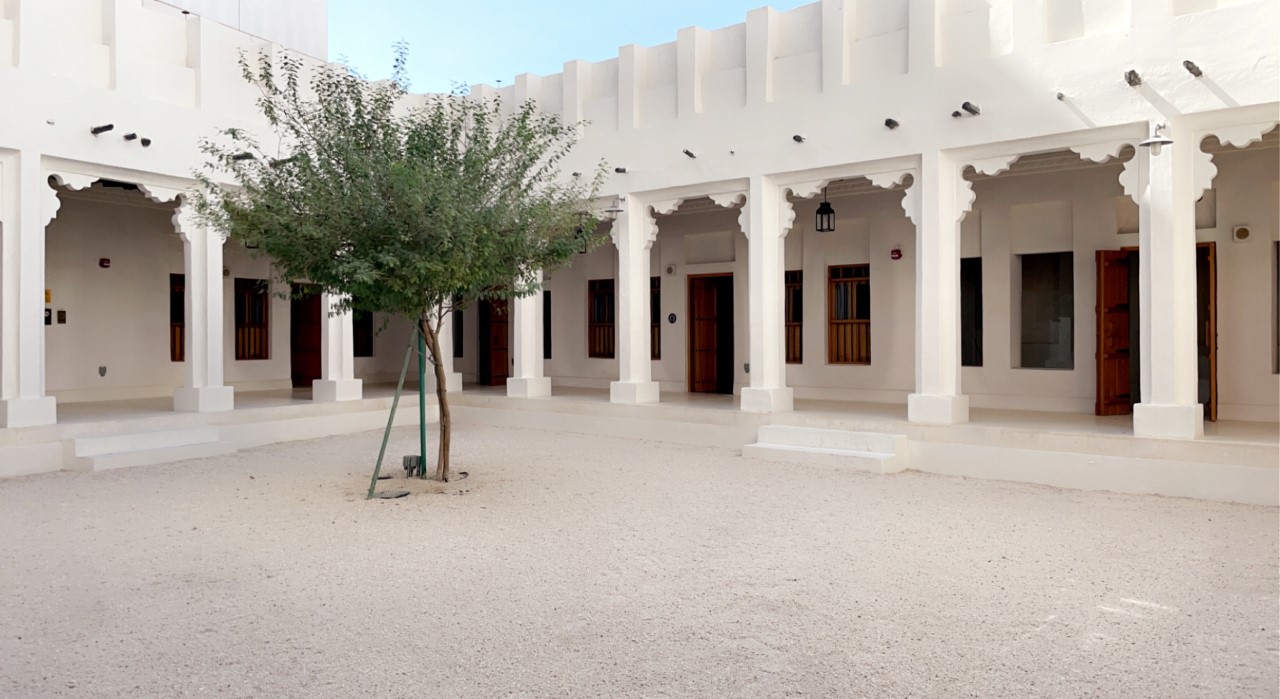 In a period of significant social transformation, Radwani House collects, preserves, and shares memories of Qatari family life in the traditional manner. The Radwani House, one of the earliest surviving specimens of Qatari history, was built in the year 1920 and belonged to Aki Akbar Radwani and his family for about 70 years. The mansion is now regarded as one of Qatar's best tourist destinations, and visitors may view the incredible antiques inside. According to history, the family actually left the house in 1971, and as a result, it was completely destroyed. A 2007 archaeological investigation led to the restoration and public opening of the house. Visitors are welcome to take a tour of the house, including the living room, kitchen, courtyard, and other rooms, to get a sense of Qatar's rich history. Visitors can gain insight from Radwani House about how family life has changed in Qatar over time. ‬ The house demonstrates not only how it has changed with time, but also how domestic family life in Doha has altered.
Location and Contact Details of Radwani House
Age Group: All age group
Timing: Monday to Thursday 9 am to 5 pm, Friday 3 to 9 pm, Saturday 9 am to 9 pm and Sunday Closed
23. Discover the Barzan Towers for a wonderful experience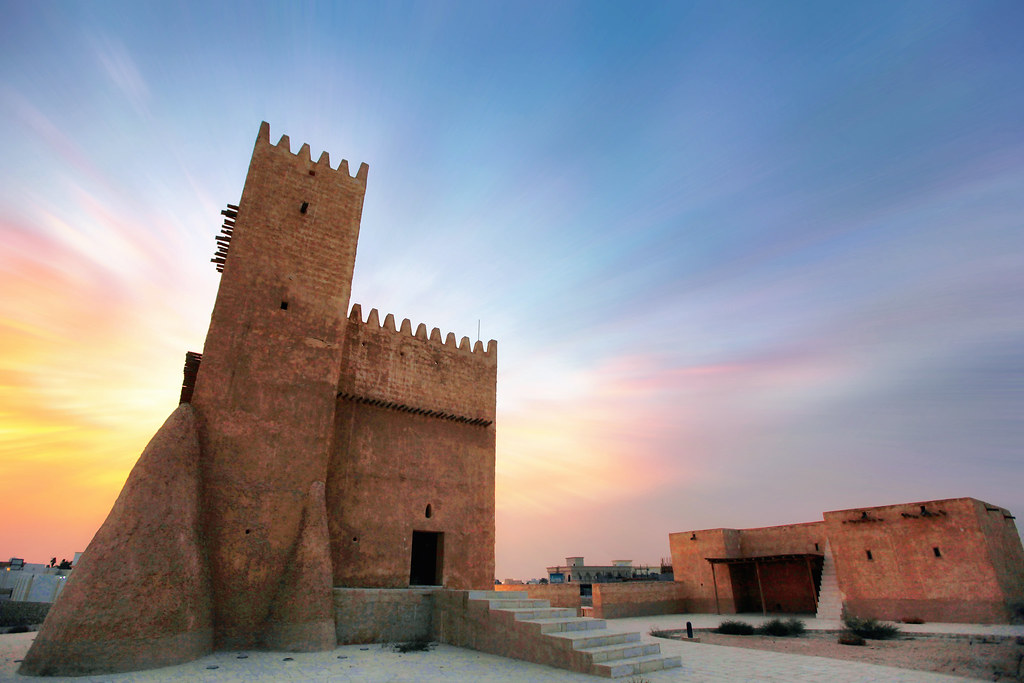 Another well-known location that has drawn numerous visitors over the years is the Barzan towers. Barzan Towers, which were first constructed in the late 1800s, received renovations under Sheikh Mohammad Bin Jasim Al Thani's rule. One of Qatar's most well-known skyscrapers, the location is unique because it has some historical significance. According to legend, the towers were constructed during the period to act as watchtowers to prevent invasions, particularly ones from the Ottomans. In actuality, astronomical observations were also made from the Barzan Towers. Here is where astronomers looked at the moon to determine the start of Ramadan. It's interesting that the Barzan Towers are made up of two towers, a tiny mosque, and a viewing area for guests. In fact, visitors can enter the tower and ascend the stairs to the top. Regarding the temperatures, the towers' thick walls make sure that the interior is kept at a comfortable level for guests.
Location and Contact Details of Barzan Towers
Age Group: All age group
Timing: 8 am to 12.30 am
24. Explore in search of a breathtaking adventure at The Dahl Al Misfir Cave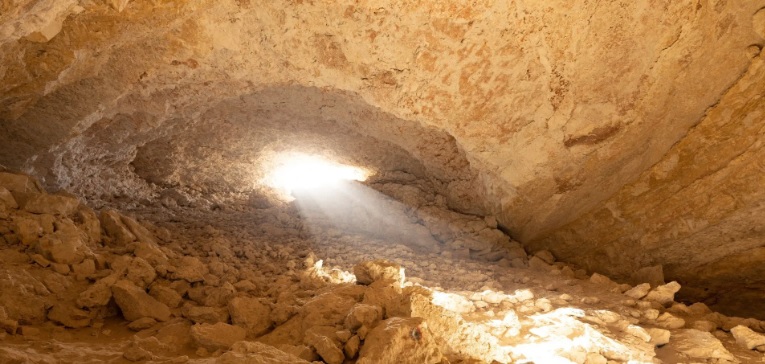 The Dahl Al Misfir Cave located in Qatar's Rawdat Rasid area, was officially opened on November 10th, 2022 by H.E. Sheikh Dr. Faleh bin Nasser bin Ahmed bin Ali Al-Thani, Minister of Environment and Climate Change. The cave, one of the most significant eco-tourism destinations, was opened after extensive geological research—the first of its kind for the location had been carried out in collaboration with Qatar Museums (QM) and ExxonMobil Research. The cave, a well-known natural monument in the nation, is roughly 40 metres deep and resembles a fey doorway. Travelers may see the phosphorescent glow as they enter the cave, and the refracting light gives the cave a moon-like brightness. The reason for the glow is a geographical phenomenon known as the "desert rose" (clusters of rose-shaped gypsum crystals) formed from gypsum deposits found in the central part of the peninsula. The possibility of encountering owls or other cave occupants adds an element of adventure to the journey, which heightens the enjoyment of exploring this cave. It is unquestionably one of the best-kept secrets and a location that adventure seekers would adore to explore.
Location and Contact Details of The Dahl Al Misfir Cave
Age Group: All age group
25. Catch a sight of Al Khor Towers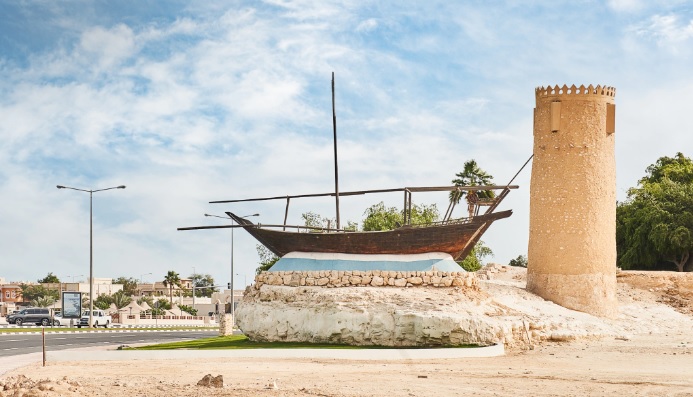 The Al Khor Towers are located in the Qatari municipality of Al Khor, 2 km from Doha, in the city of Al Khor. One of Qatar's top heritage sites, it defines the culture and history of this Middle Eastern nation. Around 1900 saw the construction of the three watchtowers known as the Al Khor Towers, whose purpose was to monitor all city activity. These towers were constructed with the intention of guarding the city harbour and monitoring invading ships as they approached Al Khor. The Ain Hleetan Well, which was close to the tower and famous for its healing abilities, was vital to the community's ability to survive. Al Khor Towers draw tourists for many reasons than simply the legends. They also have stunning architecture. With a height of 26 feet, Al Khor Tower can provide a comprehensive perspective of the entire city.
Location and Contact Details of Al Khor Towers
Age Group: All age group
26. Enjoy with your family at the MIA Park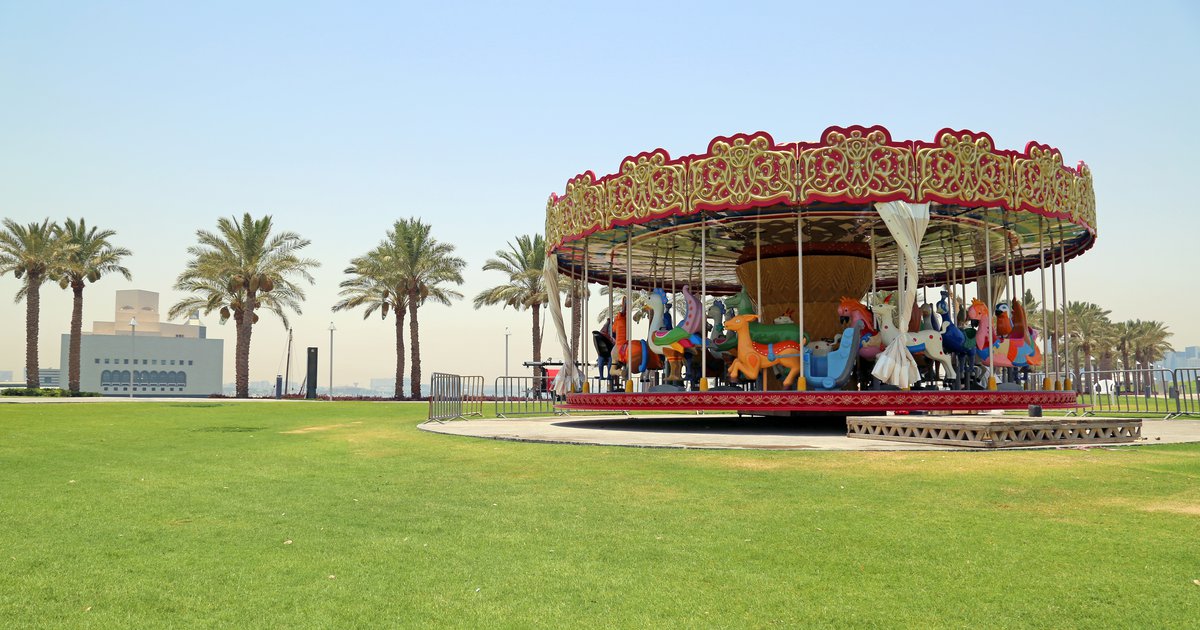 One of Qatar's numerous well-known attractions is the MIA Park, which offers families a delightful time. MIA Park is a great place to take a stroll before or after visiting to the nearby Museum of Islamic Art. The interesting aspect of this park is its lovely surroundings, which include a stunning coastline on one side and an iconic museum on the other.To escape the bustling city of Qatar or the heat of the desert, head to the grassy area beside the lake. From the museum to a peninsula in the Persian Gulf, you can travel the entire length of the park, which is designed as a semicircle. Admire the tall steel obelisk created by the artist Richard Serra at the end of the promenade. The park frequently hosts musical and cultural activities, and visitors enjoy taking part in them. For kids of various ages, there are distinct play spaces. Movie screenings, art exhibitions and seminars, pop-up markets, concerts, sporting events, and other events are held in MIA park. The park is littered with stalls, diners, and pop-up and artistic cafés.
Location and Contact Details of MIA Park
Age Group: All age group
27. Discover the elegance of Lusail Marina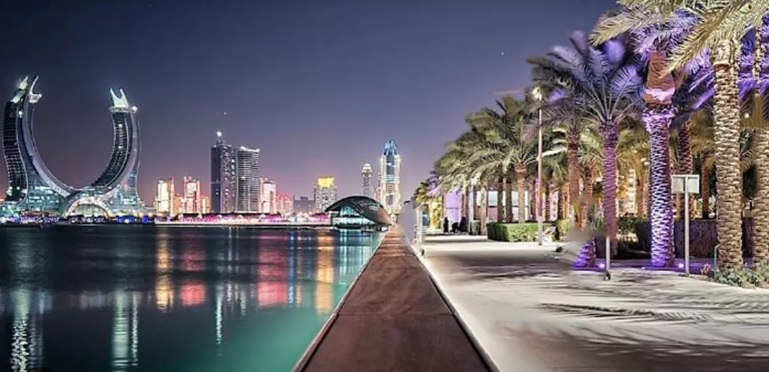 The amazing Lusail Marina is located in the future metropolis of Lusail, Qatar, and it offers relaxation and luxury. In addition to having a Downtown, a North Shore, and a South Shore, the marina also offers upscale villas close by. The marina, which was constructed on a 6 metre square, is home to more than 93 ships and five floating lounges. The area is distinguished by its maritime infrastructure, which includes, among other things, a deck overlooking the sea, a kiosk, contemporary furniture, and towering steel pergolas. The area offers a top-notch luxury ambience, ensuring convenience and relaxation. To enjoy the evening and the best recreation activities, kiosks, a playground, and a garden area are available. Entertainment City, where visitors may shop, see a movie, or spend the entire day exploring, is only 15 minutes away from the Lusail Marina Promenade.
Location and Contact Details of Lusail Marina
Age Group: All age group
Timing: Open 24 hours
28. To Fulfill your desire for Gold Jewellery, visit the Gold Souq Qatar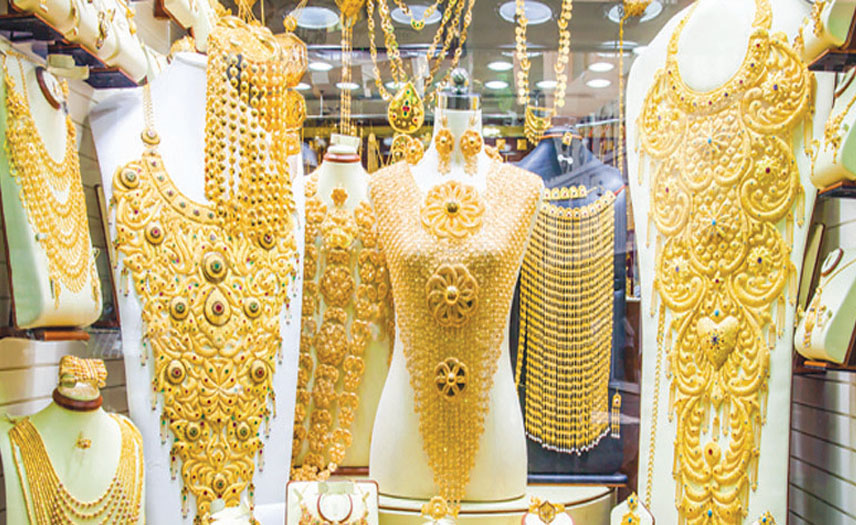 The Gold Souq Qatar is the ideal location to satisfy your desire for gold jewellery, accessing the Gold Souq is made simpler by its convenient position in the heart of Downtown Doha. There are many gold shops in this shopping paradise near the renowned Souq Waqif, selling beautiful pieces of gold at affordable costs. At the Gold Souq Doha, you can buy everything from imported bracelets to hefty or sleek chains, rings, and bridal jewellery. You receive official authenticity documentation attesting to the gold's authenticity and originality. Before the buyers, gold that has been hallmarked and has an authenticity certificate is weighed. Pendants with a person's name printed in Arabic are some of the nicest items of jewellery to purchase from the Gold Souq. This can be the ideal gift to give your loved ones if you want to make them feel special and loved. It is something unusual and different. The jewellery seen here comes in a variety of metals, including silver, platinum, and pearls, although the majority of it is made of 22-Carat gold.
Location and Contact Details of Gold Souq
Timings: 8.06 am to 1.06 am

29. Indulge in a meal at Doha's only rotating restaurant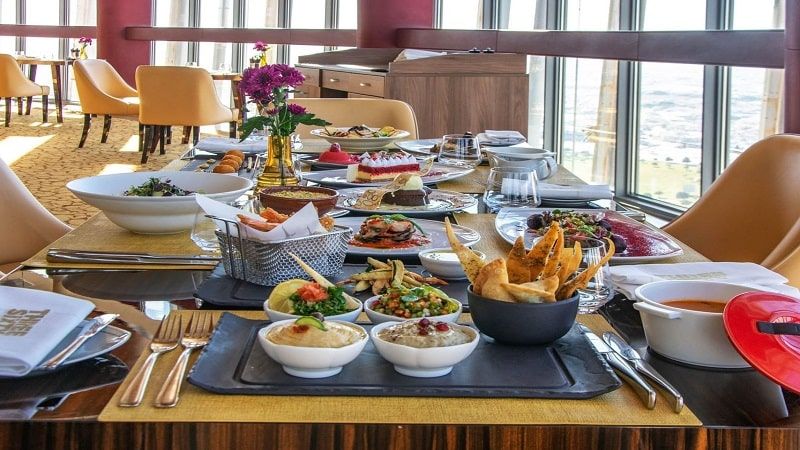 The Three Sixty Restaurant is one of the best places in the city to eat and experience delicious food. Although food tours are fairly common in Qatar, especially taking into account the country's welcoming culture and diverse culinary choices, this lavish eatery at the Torch Tower Doha is the best venue to savour the cuisine. The Restaurant is the only rotating restaurant in Doha and is positioned on the building's 47th story, making it a once-in-a-lifetime experience for everyone. The finest thing to do in Qatar, after eating, might be to take in the cityscape. The restaurant offers options such regional food, vegetarian-friendly meals, vegan options, and halal food to meet the demands of everyone. Due to the fine dining concept, children 5 years old and below are restricted in dinner time.
Location and Contact Details of Three Sixty Restaurant
Timing: 3 pm to 11 pm
30. Discover Pearl Qatar in all its glory
A man-made island called The Pearl Island is a popular vacation spot that offers both locals and tourists a whole leisure experience. The Pearl Island is a true living wonder because it combines luxurious living with exciting shopping and entertainment, beautiful scenery, and a vibrant community culture. It is located close to Doha's upscale West Bay neighbourhood. The region offers a luxurious shopping experience with top-tier designer stores and showrooms, as well as marinas lined with yachts in the Mediterranean style, residential towers, villas, and hotels. The Island is also home to contemporary food establishments, offering everything from mouthwatering ice cream to five-star culinary experiences. It also distinguishes out for its numerous planted gardens and pedestrian-friendly squares and plazas. The Pearl is a well-liked tourist destination because of its elegant, appealing descriptions like the "Arabian Riviera."
Location and Contact Details of Pearl Qatar
31. Enjoy scenic beauty at Fuwairit Beach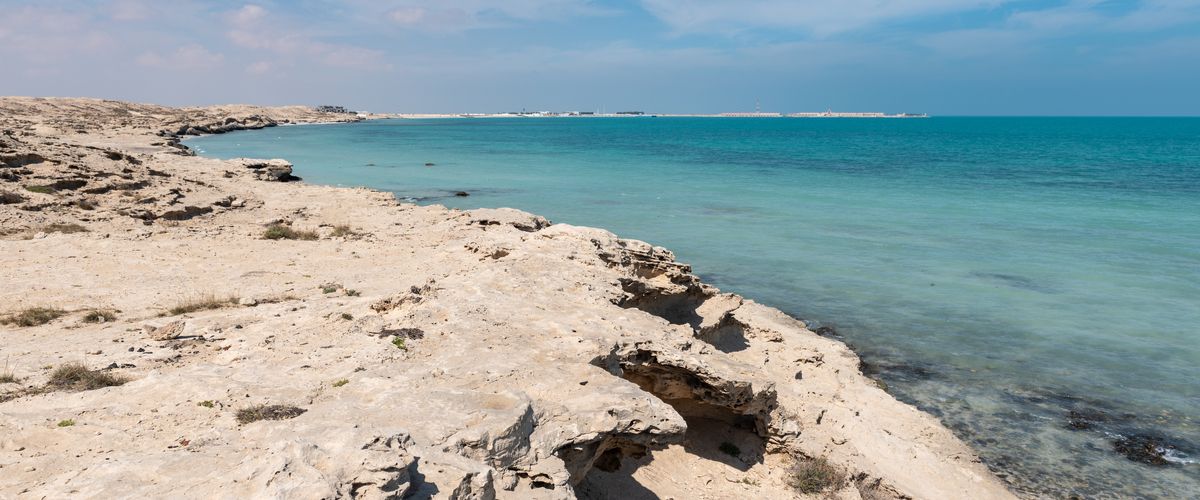 A paradise, Fuwairit Beach is the ideal location for families to visit and enjoy some quiet time in a remote setting. Fuwairit, which is located in the north of the nation, boasts a long stretch of fine, white sand, a sea that is a deep blue, and a shoreline that is covered in gorgeous pink, white, red, and yellow seashells. It's interesting to note that Fuwairit is still primarily a family-only community. Children may play in the shallow, calm water and enjoy swimming without having to worry about their safety. Similarly, older kids and adults can go a little further and take a true sea swim.
Location and Contact Details of Fuwairit Beach
32. Let's Explore the Education City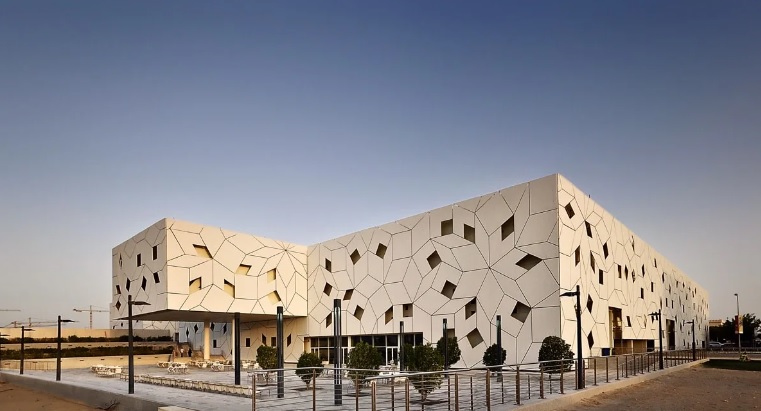 Qatar's education city is one of the most important destinations to visit and is more than just a tourist destination. The city, which was constructed over a 1,000-hectare area, has helped the nation's educational system by providing a K–12 institutional structure. There are universities, libraries, research institutions, and every other aspect that makes it an ideal setting for education. Along with the colleges and universities, growth has turned Education City into one of the best places to live, complete with accommodating homes, hotels, and more. Here, higher education is being pursued by more than 8000 students. International students from all over the world are welcome at Education City to be a part of their system and pursue their dreams of a brighter future. The city, which
is situated in the Al Rayyan region, is an ideal location to learn more about Qatar's cultural values.
Location and Contact Details of Educational City
Timing: 5 am to 10 pm
33. Hamad Aquatic Centre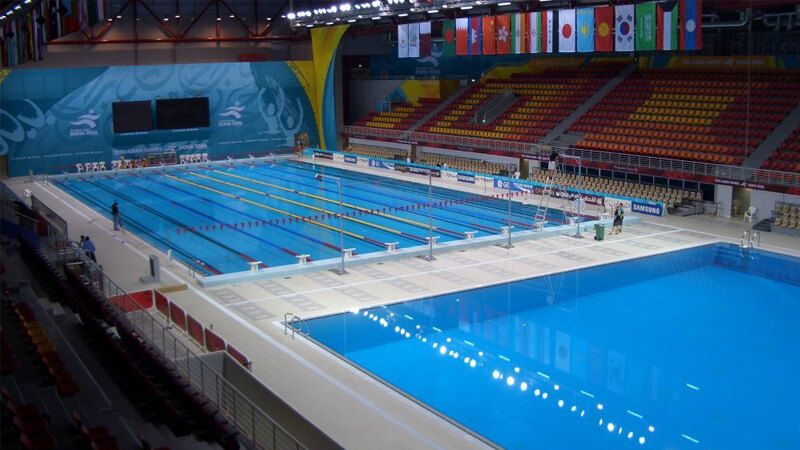 In Doha, Qatar, there is a large pool facility called the Hamad Aquatic Centre. The centre is located within the Doha Sports City complex, which also houses other structures devoted to sports in Qatar, such as the Qatar Olympic and Sports Museum, the Aspire Tower, the Khalifa International Stadium, and an Aspire Academy-affiliated training facility. It is three stories high and designed to hold competitions in diving, swimming, and synchronised swimming. There are five temperature-controlled swimming pools within the facility, including two Olympic-size pools measuring 50 metres each, two dive pools measuring 25 metres, and a shallow pool for beginning swimmers. The Centre is a key player in developing aquatic sports in Qatar, having hosted six FINA world swimming cups and serving as the base of operations for the diving, water polo, and swimming national teams as well as some of the largest swimming clubs in the country. In October 2013, the Center was the subject of criticism.
Location and Contact Details of Hamad Aquatic Centre
Timing: Sunday to Thursday from 6 am to 9 pm, Friday from 1 to 9 pm, Saturday from 9 am to 9 pm
34. Enjoy at Mall of Qatar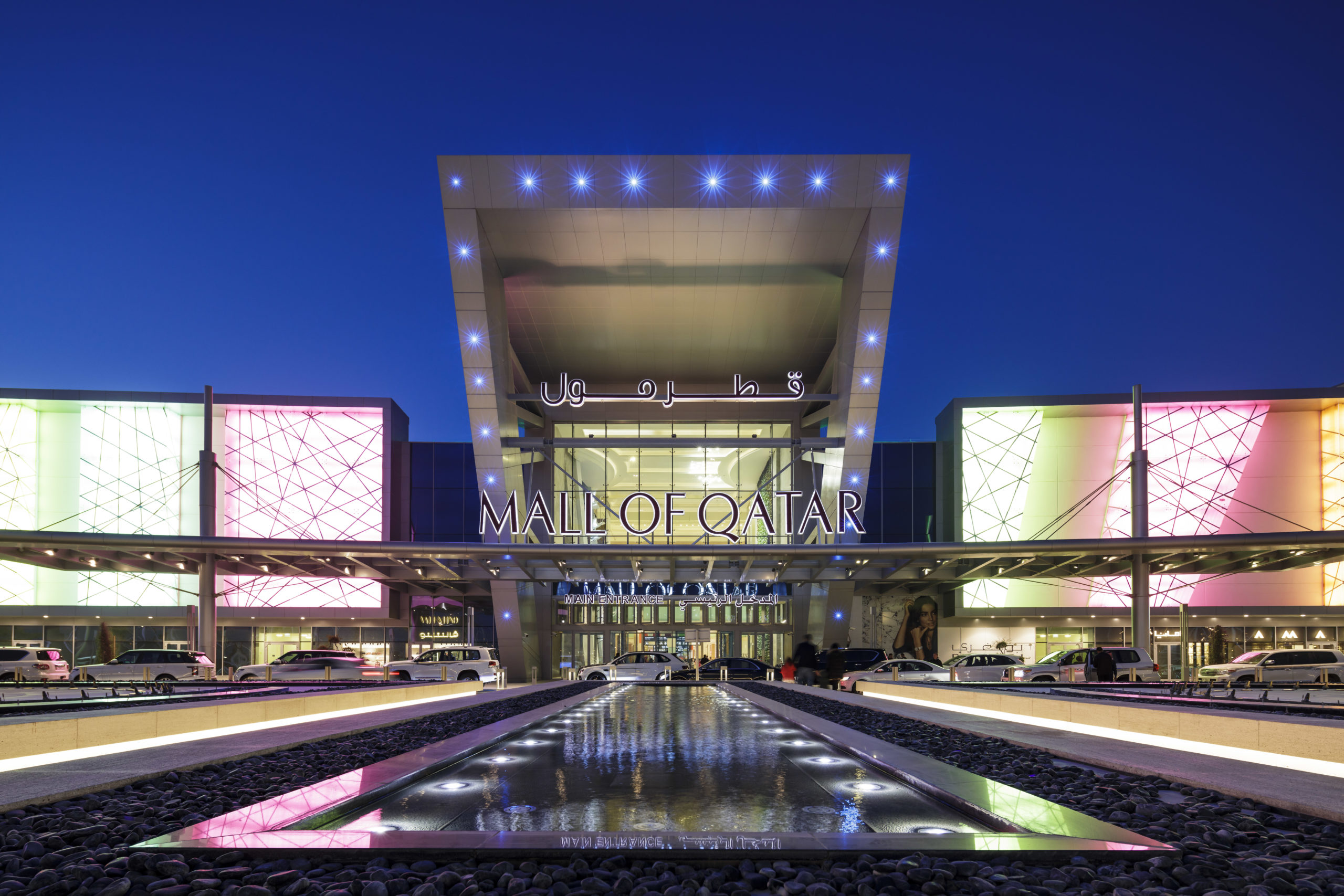 The Mall of Qatar is a shopping centre that inaugurated in the Rawdat Al Jahhaniya district of Al Rayyan, Qatar, in December 2016. There will never be a dull day spent with your loved ones thanks to this lovely location. The mall is the largest mall in the nation, with an astounding 500 stores. In fact, the Mall of Qatar, which offers a wide variety of options, is regarded as the biggest mall in the nation. The mall offers the best cinematic experiences, and with its nine screens, it is a destination that looks out for your amusement. In addition, the Mall of Qatar features a number of extra amenities. The convenience of shopping from home allows for home delivery of the purchased goods. The mall also offers 7000 spotless parking spaces, which are excellent in every way. By utilising the app, one can even find the automobile at the mall's car park.
Location and Contact Details of Mall of Qatar
35. Relax and Enjoy at City Centre Mall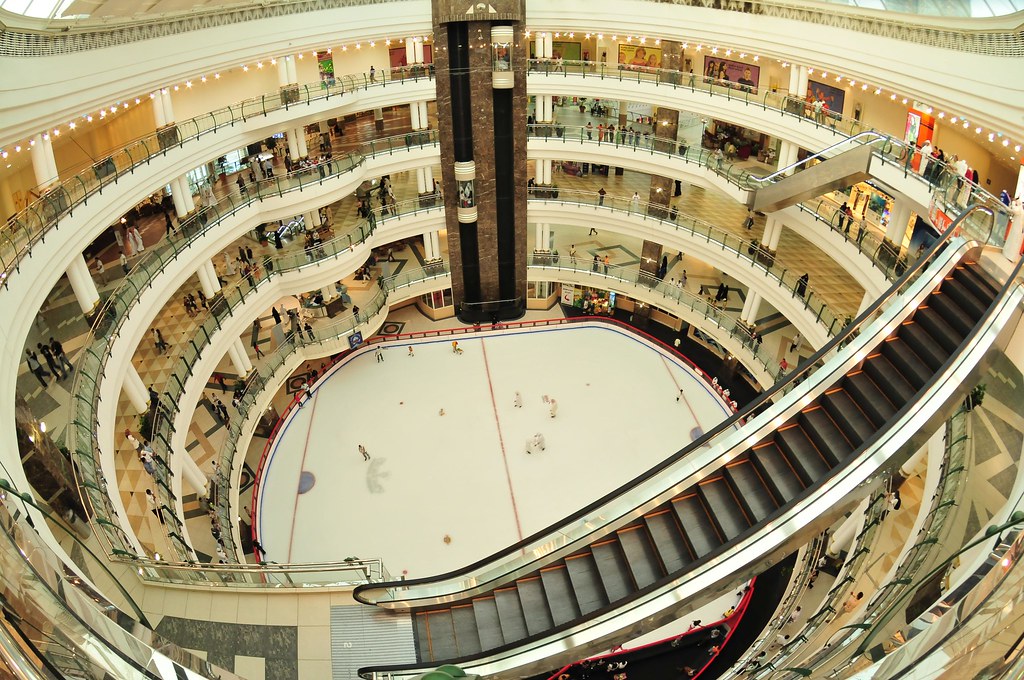 One of the major retail malls in the area and one of the oldest in Doha is the City Centre Shopping Mall. Locals, foreigners, and tourists who visit to shop at the 350 stores or take advantage of the variety of entertainment alternatives all adore it. The mall can hold up to 70,000 people during busy hours. The Grand Murwab Hotel, Rotana Hotel, and Marriott Marquis Hotel are now connected to the mall. It has also received a brand-new makeover on the inside, with cosy seating areas and cheerful new furnishings. Here, there are hundreds of stores to browse through while shopping and a wide variety of restaurants spread out across five floors, so be prepared to spend the entire day there. The excellent array of national and international brands available at City Centre Shopping Mall may be found at more affordable prices. Shop at establishments like Body Shop, Quiksilver, Calvin Klein, Nine West, Kipling, Adidas, and many more.
Location and Contact Details of City Centre Mall
Timing: 10 am to 2 am , Friday Prayer hours are closed

One of the best countries in the world, Qatar offers visitors a variety of fascinating things to do. This is a nation that offers everything, from discovering undiscovered wonders to trekking across the challenging desert landscapes. Would you like to go on one of Qatar's adventures? How long is the wait? Travel to Qatar right away!
Hope this was helpful for you. To know more about Qatar follow our website, here you will get gold rates, exchange rates, latest news, latest shopping offers and business listings in Qatar. Please visit these places and share your experience, for any changes do mail us at info@arablocal.com
Also Read:
Indian And Vegetarian Restaurants In Doha
Best Hotels And Resorts In Qatar
Best And Must Try Shawarma Places In Qatar