Winter Activities For Kids In Qatar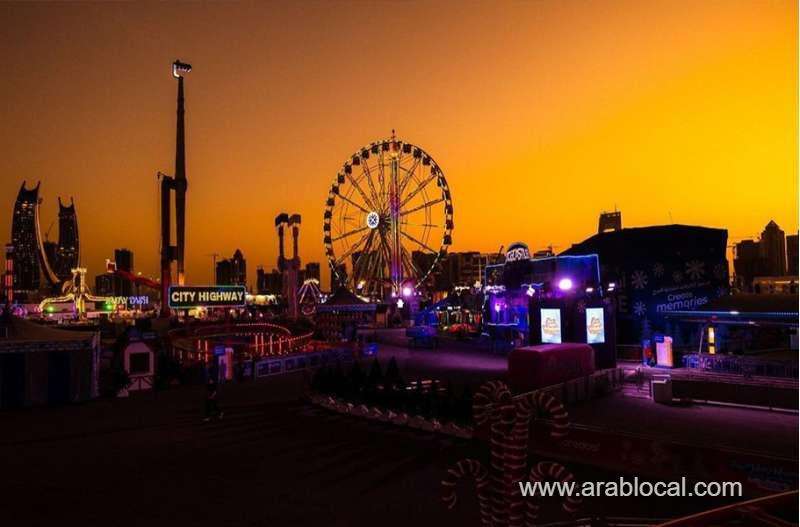 In contrast to the scorching summer heat, the winter season presents a great opportunity for children to bask in the cool breeze and explore Qatar's natural wonders.
Qatar offers a variety of outdoor activities designed to engage young minds and hearts, from water parks to exciting beach days.
Crescent Park playground
You can take your kids to one of the many interesting playgrounds available in Qatar during the cooler months. One of the most popular choices is Crescent Park, which has a variety of play areas, including slides, wooden boats, wooden installations, and sports courts for kids.
The entrance fee is free!
Lusail is the location
The timings are:
Sunday to Wednesday: 7 am - 11 pm
Thursday to Saturday: 7 am - 12 am (midnight)
Contact: +974 4497 7800
Playground at West Bay Beach with inflatables
Is it true that West Bay Beach has a dedicated section for kids with an inflatable playground? This instalment is available only during weekends and is a great way to let your kids have fun under the sun!
Price:
Weekend entrance fee: QR 45
Under 12 years old are free
Playground inflatable (30 minutes):
QR 10 per kid
QR 60 per group (minimum of 8 kids).
West Bay is the location
Every Friday & Saturday from 8 am to 11 pm
Instagram: @westbaybeach
The Torba Farmers Market offers eco-friendly activities
Take your children to a world of eco-friendly practices, including stalls with vegetarian or vegan treats, arts and crafts, and a playground.
Children can also take part in gardening workshops specifically designed for them. Your child can also apply to become a vendor at one of the five Torba Booths, where they can showcase their talents at an early age.
The entrance fee is free
The location is Education City
Timings: 8 am to 10 pm
Contact: +974 3067 2516 ( workshop & inquiries) | +974 3100 8110 ( customer care)
Instagram: @farmersmarketqa
Desert Falls Waterpark offers water fun
Experience an awe-inspiring adventure at Desert Falls, one of the largest theme parks in the Middle East. With a whimsical blend of 19 attractions, including 30 delightful rides and slides, get ready for a joyous and enchanting experience that will leave your little ones thrilled.
Price:
Adult: QR 150 each
Junior (below 1.2 meters): QR 150 each
Family (4 persons): QR 500 per family
Location: Hilton Salwa Beach Resort & Villas
Timings: 10 am to 5 pm (Daily).
Contact: +974 4423 6666
Instagram: @desertfallsqatar
Fun time at Baldana Park
The Baladna Park is a green oasis on the outskirts of Doha. With a range of over 28 thrilling rides and attractions set amidst breathtaking landscapes and activities such as bumper boats, bungee trampolines, pedal racing, a petting zoo, rock climbing and so much more!
Price:
Child (3 to 12 years): QR 55 each
Adults (13 to 59 years): QR 35 each
Location: Al Khor
Timings:
Monday - Thursday: 10 am to 7 pm
Friday: 12:30 pm to 8 pm
Saturday: 10 am to 8 pm
Sunday: 10 am to 7 pm
Contact: +974 4424 6000 | +974 5049 3000
Instagram: @baladnapark
Visit to the National Museum of Qatar was informative and fun
Kids can explore the Nakilat Adventure Ship playground at the National Museum of Qatar and learn about Qatari history, culture, and activities such as pearling, fishing, and trading.
Price: Entrance is free
Location: Museum Park Street
Timings:
Saturday - Thursday: 9 am to 7 pm
Fridays: 1:30 pm to 7 pm
Contact: +974 4452 5555
Instagram: @nmoqatar
Lusail Winter Wonderland offers winter fun
The Al Maha Island offers over 50 rides, live entertainment, delicious food, and drinks for the whole family.
Thursday | Friday | Saturday:
Entry
Adult: Entry + 2 rides: QR 176 each
Child: Entry + 2 rides: QR 156 each
Unlimited rides
Adult: QR 250 each
Child: QR 198 each
Timings: 4 pm to 1 am
Sunday | Tuesday | Wednesday:
Entry
Adult: Entry + 2 rides: QR 156 each
Child: Entry + 2 rides: QR 136 each
Unlimited rides:
Adult: QR 222 each
Child: QR 178 each
Timings: 4 pm to 11 pm
Note: Lusail Winter Wonderland is closed on Mondays
Location: Al Maha Island
Contact: +974 5518 0369
Instagram: @lusail.winterwonderland