Holi Celebration 2020 - The Biggest Beach Party At Sealine Beach!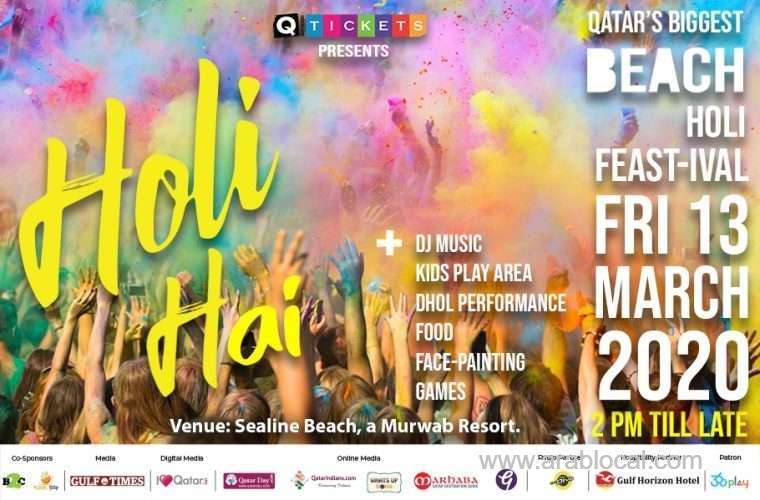 World's happiest event comes to Qatar and it's going to be the biggest beach party to ever happen in the country! Q-Tickets, the leader of entertainment and events in Qatar, presents the grandest beach colour festival in town with fun-filled activities for everyone to enjoy. This mega event will take place on March 13, in Sealine Beach, starting at 2 pm onwards. It is open to the public and for all ages.
Packed with delicious food offers, Dhol performances, DJ music, face painting, kids play area, colourful ambience, and many more surprises – the event is a perfect one-stop Holi destination for the family. Holi is a grand and unique celebration of festival of colour and love. Attracting a diverse cross-section of nationalities, each year, the festivity is growing in popularity and importance around the world.
Beach Holi Feast-ival of Colors 2020 will take you to a day full of fun and euphoria with an array of colours and enjoyable activities under the sunny skies. It promises a day of complete entertainment, partying with foot-stomping Bollywood music and enjoying a smorgasbord of international cuisine.
Treat your whole family and friends to this most exciting event of the year. Bash and splash with some organic Holi powder of different colours to throw! Bring out the inner child in you in a lively atmosphere and throwing of vibrant hues – all these and more in an open-air beach setting.
Colours, food, and beverages are available at the venue at reasonable prices. Outside food, colour powder, and beverage are not allowed. Early Bird prices (for as low as 30 QAR per pax for every group of 3) are available for a limited period. So, let the colours of Holi spread the message of peace and happiness in this party like no other!
Book your tickets here- https://www.q-tickets.com/qa/Events/EventsDetails/8711
ILoveQatar is proud to be the Digital Media partner for this event!
SOURCE: ILOVEQATAR